Missouri murderer Walter Storey, who killed a special needs teacher in 1990 to get some beer money, has been executed at the Eastern Reception, Diagnostic and Correctional Center in Bonne Terre, Missouri after lawyers failed in a last minute appeal to the Supreme Court.
Storey's defence had argued that the drug used in executions in Missouri, pentobarbital, was obtained from an undisclosed compounding pharmacy and details about testing were unclear so it would be impossible to say if the drug caused suffering.
The Supreme Court rejected the appeal and Storey, 47, was condemned. His final statement read: "For this world full of anger, hate and revenge, I would like to pray for peace, forgiveness and love! I love everyone, even those who are doing this deed."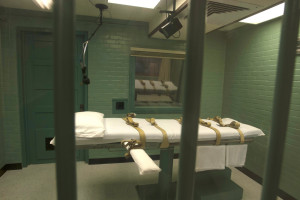 As Storey was strapped to the gurney he mouthed the words "I love you" at 14 witnesses and the family of Ms Frey. He then appeared to sing or chant for a minute until the drug rendered him unconscious.
Ms Frey's brother Jeff, who witnessed the execution, said in a statement: "To say Jill was a special person is an understatement. We hope by hearing our tragic story the people of this country will push to change this process and stop these lengthy lawsuits and appeals. Twenty five years is tragic."
Storey, who suffered an abusive childhood, was 22 when he broke into the home of his mother's 36-year-old neighbour Jill Frey, who had left a sliding door open on her balcony.
Storey beat Frey so badly she suffered severe head and face wounds as well as six broken ribs. He then used a kitchen knife to slit her throat so deeply she suffered spine damage. She died of blood loss and asphyxiation.
Storey returned to the apartment the next day to clean up all traces he had left the night before, cleaning Ms Frey's fingernails in case they contained his traces. However he missed a bloody print which police used to identify him from previous records.
32 US States currently have the death penalty on their books, but executing people is becoming a legal minefield. Exports of some drugs are banned from Europe and the shortage of suitable drugs has led to some states considering bringing back the electric chair, firing squad and even the gas chamber.