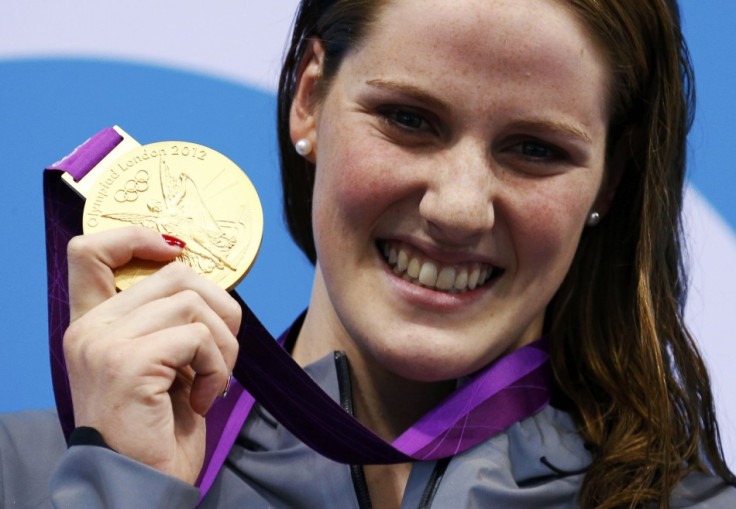 Canadian singer Justin Bieber is somebody almost every teenage girl in the world would love to meet. Few, however, will probably have that opportunity. For Missy Franklin though, all the hard work she put into training for the London 2012 Olympics and the ecstatic joy of winning gold in the women's 100m backstroke and a bronze in the women's 4x100m freestyle have had a very unexpected reward - she has a new fan - Justin Bieber himself!
In a recent interview with NBC, the ace swimmer admitted she was a huge fan of the pop star and as fans' wishes and messages of congratulations poured in, there was one very special tweet.
"heard @FranklinMissy is a fan of mine. now im a fan of hers too. CONGRATS on winning GOLD! #muchlove," Bieber tweeted. The message has already been re-tweeted close to 20,000 times
Franklin was one of those re-tweeters; she added: "I just died! Thankyou!"
Meanwhile, Missy Franklin's father, Dick Franklin, received a text message from his daughter with a whole lot of exclamation points... and it was about Bieber's tweet not the gold medal!
"She was all excited about that," Franklin was quoted as saying to USA Today, "He's coming to Denver I think for a concert in February, and she has tickets."
Missy also received words of support from Scotty McCreery, the winner of American Idol, who tweeted: "We're rooting for you @franklinmissy! Keep it up! #USA".
As the messages poured in, Missy tweeted, "I am so grateful for everything that has happened. God has blessed me with so much. Thank you so much for all the love and support!"
Gold for Colorado Batman Victims
Missy Franklin later announced she dedicated her gold medal to the victims of the Aurora, Colorado film massacre.
"Every single race I'm going to have that Colorado incident back on my mind," she told CBS, "It's such a terrible thing and I'm so shaken by it. They're in my thoughts this entire process."