Mitch McConnell anxious over what Donald Trump will do with migrant 'dreamers'
Senate majority leader sympathetic to plight of DACA programme's child immigrants as president mulls mass deportation pledge.
Senate majority leader Mitch McConnell has said he is sympathetic to the "dreamers" who came to the US as young children and have no official documentation.
Beneficiaries of the Deferred Action for Childhood Arrivals programme, which delays the threat of deportation of undocumented immigrants who entered the US as minors and makes them eligible for work permits, were among those people former president Barack Obama urged Donald Trump to protect when he took office.
And speaking to reporters in comments reported in The Hill, McConnell said he was sympathetic to their plight.
"I'm very sympathetic with this situation," he said.
"These are young people who were brought here at a tender age and who have grown up here or are in the process of growing up here. I'm anxious to see what the president decides to do."
Trump has made it clear he is prepared to push through tough immigration laws, including his controversial – and currently overturned – ban on US entry to people from seven majority-Muslim countries and the building of a wall on the country's southern border with Mexico.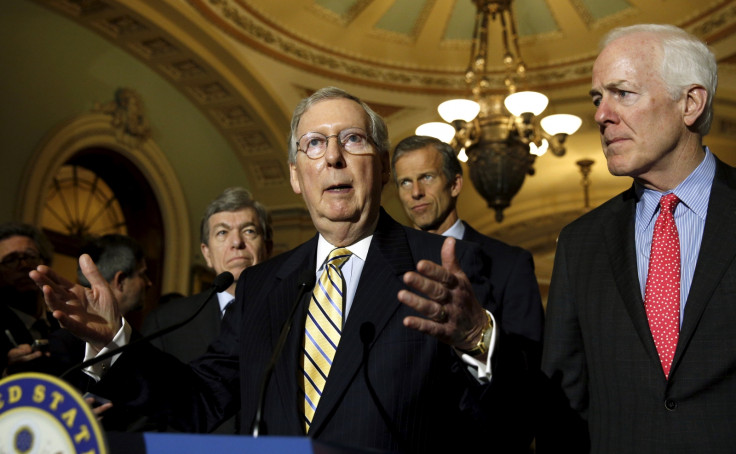 The president said on taking office that he was intent on deporting millions of undocumented immigrants – with 'dreamers' now among those fearing for their future.
His plans led to immigrants walking out of their jobs across US cities today (17 February) as part of the Days Without Immigrants protest.
However, the president said he would "deal with DACA with heart", although he did not specify what that meant.
"I have to deal with a lot of politicians and I have to convince them what I'm saying is right," he said.
"I appreciate your understanding on that, but the DACA situation is a very, very — it's a very difficult thing for me because I love these kids. I love kids. I have kids. And grandkids.
"I find it very, very hard doing what the law says exactly to do, and the law's rough. I'm not even talking about new laws, I'm talking about the existing law and the existing law is rough. It's very, very rough."
© Copyright IBTimes 2023. All rights reserved.