The Ministry of Defence has flatly denied reports that a Royal Navy helicopter was chasing an Argentinian submarine when it went missing with 44 crew on board.
The claim was made by Jesica Medina, the sister of one of the missing sailors, who said she received a "strange" WhatsApp message from her brother last month in the days before the sub vanished.
Second sub-officer Roberto Daniel Medina told his sister in the message: "On Monday an English helicopter was looking for us, and yesterday the Chileans, there has been a lot going on."
She said her brother sent the message on 3 November as the ARA San Juan submarine went close to the Falkland Islands and picked up a British helicopter tail.
"It was a strange message in which he told us a British helicopter and a Chilean ship had been chasing them," she told Argentina's La Gaceta newspaper.
"I don't know how close they got to the Malvinas [the Argentinian name for the Falklands] and I don't know what the political situation is like. That's what he told us and that is what we were left with."
Medina said that many families of missing crew members also received posts from their loved ones saying they had been trying to outrun a British helicopter in the buildup to the disappearance of the German-built vessel.
The sub went missing on 15 November in the South Atlantic, with 43 men and one woman on board, as it travelled back to Argentina's Mar del Plata naval base.
Medina said she "didn't feel able" able to release the WhatsApp information earlier but now wanted federal judge Marta Yanez, who is leading the country's probe into the loss of the sub, to investigate.
Completely untrue
She said: "We're not the only family who has heard something like this. I think there are many others. Judge Yanez will have to investigate," she said.
But an MoD spokesman said: "This story is completely untrue."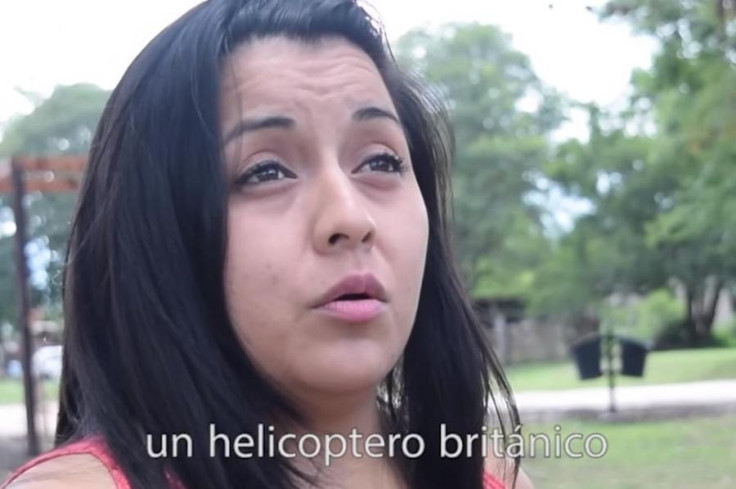 Britain joined an international search for the diesel-powered sub after it was reported missing.
It last made contact with its base to report that water had entered the vessel, causing a battery fault.
The crew had up to 10 days of oxygen left but navy bosses later revealed that an explosion had been detected on board.
Medina said: "We all feel they are hiding things from us. The navy has tortured us with this situation."
The Argentinian search for the San Juan submarine continues but naval officials hold out no chance for the survival of the crew.
Yanez has admitted that the submarine "may never be found or recovered."