Model Martina Big under fire for extreme tanning 'transformation'
'Love the skin you're in and love yourself. You're white, stay white,' a follower said.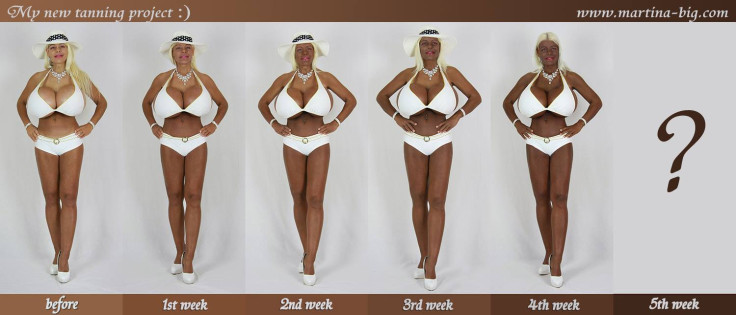 German model Martina Big has come under fire after she revealed photos in which she appeared to have bleached her skin from white to black, in what she called her "transformation".
Known for her "extreme look", the 29-year-old model from western Germany has been uploading photos of her numerous transformations, including breast enlargement and gradual tanning obtained by having tanning injections as well as regular sunbeds.
Accompanying a series of images narrating her skin transformation posted in February, the model wrote: "After I had several sunbathing on the beach and by regular tanning bed visits, I could only reach a light tan. So I decided for a medical treatment.
"In January 2017 my doctor gave me three injections, since then my skin is getting darker and darker."
Social media users have reacted to a set of pictures the young woman uploaded on her official website and Facebook page, accusing the young woman of pernicious appropriation.
Maryland resident Rolanda Parker said: "Your skin looks like you're trying to imitate a black woman. People wanna be black until it's time to be black. Smh (shake my head) – Just love the skin you were in."
Reacting to a more recent photo of the model, in which she displaced a darker mahogany shade, user Amari Alaia Williams said: "You look stupid. Love the skin you're in and love yourself. You're white, stay white."
Sydney Palmer, from Douglasville, Georgia, said: "Y'all really do think being black is just a fun costume?"
Responding to Palmer's comment, user Judas Rolewicz from Cottage Grove, Minnesota wrote: "...this is racist af (as f**k). It's not about just not liking how she looks."
User Nanineko Siana added: "(It is) When you want to be black so badly that you're delusional and refuse to admit that."
The model, who has a European size 6 frame, has also been documenting her breast enlargement to a 32S-cup cleavage. According to her official Facebook page, she now carries 4500cc (cubic centremetres) per breast, which she injects with saline.
© Copyright IBTimes 2023. All rights reserved.