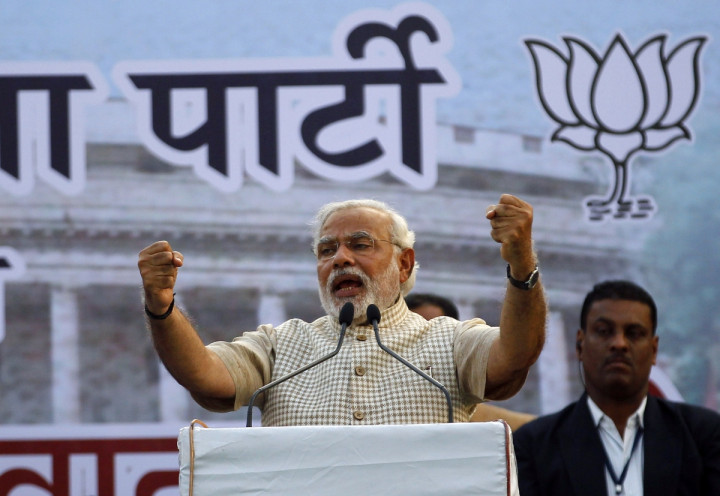 India's prime minister-designate Narendra Modi is heading to capital Delhi to hold a party meeting as the outgoing premier Manmohan Singh makes a final address to the nation.
Modi will fly from his home state of Gujarat to attend Bharatiya Janata Party's (BJP) board meeting following the party's unprecedented victory in the parliamentary elections.
The imminent premier is expected to hold a victory procession in the capital while travelling from the airport to the party headquarters.
Votes are still being counted but the BJP has already comfortably crossed the halfway mark of 272 seats, which are required to form the federal government. The BJP-lead coalition National Democratic Alliance (NDA) has secured 337 seats so far.
The BJP board comprising 12 senior figures from the party will decide on crucial matters including finding a replacement for Modi in Gujarat. The cabinet formation will also be discussed during the meeting.
Modi is also likely to visit Varanasi, one of the two constituencies he won from, to address a public rally later in the day.
Modi said in his victory address earlier: "The age of divisive politics has ended, from today onwards the politics of uniting people will begin. We want more strength for the wellbeing of the country ... I see a glorious and prosperous India."
"I want to take all of you with me to take this country forward... it is my responsibility to take all of you with me to run this country."
Meanwhile, the departing premier Singh has made his farewell televised remarks on Saturday (17 May) morning.
He said: "In the last ten years, we as a country have seen many successes and achievements that we should be proud of. Today, India is a far stronger country in every respect than it was a decade ago. I give credit for these successes to all of you. However, there is still vast latent development potential in our country and we must collectively work hard to realise it."
Singh's Indian National Congress has been routed in the latest elections falling short of seats to even be able to nominate an opposition leader in the Lok Sabha (lower house).