Moeen Ali will not be disciplined for wearing wristbands supporting the people of GazaGetty
Moeen Ali will face no disciplinary action from the International Cricket Council after wearing "Save Gaza" and "Free Palestine" wristbands during England's Test match against India.
Ali wore the bands while batting during England's first innings at the Rose Bowl in Southampton.
A team spokesman confirmed to the Guardian that the 27-year-old Muslim of Pakistani descent sought permission to wear the bands before taking to the field.
But the messages prompted the ICC to investigate the incident and a spokesman for the global governing body told AFP: "The ICC equipment and clothing regulations do not permit the display of messages that relate to political, religious or racial activities or causes during an international match.
"Moeen Ali was told by the match referee that whilst he is free to express his views on such causes away from the cricket field, he is not permitted to wear the wristbands on the field of play and warned not to wear the bands again during an international match."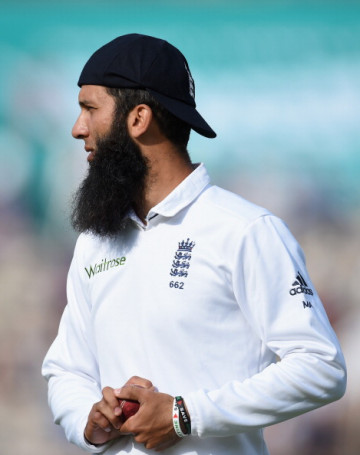 Fighting between Israel and Palestinian militants has been escalating in the geopolitical flashpoint of the Gaza Strip since three Israeli teenagers were allegedly killed by Hamas in June.
Rocket launches and aerial bombardment have since taken the lives of at least 1,030 Palestinians and 52 Israelis.
Ali, who has publicly raised money for the people of Gaza in his hometown of Birmingham, was at the crease for 42 minutes and was out for 12 runs after being caught off of a Bhuvneshwar Kumar bowl.
It was thought the left-hander could be in breach of the ICC's code of conduct for players, which states: "Players and team officials shall not be permitted to wear, display or otherwise convey messages through arm bands or other items affixed to clothing or equipment unless approved in advance by the player or team official's Board. Approval shall not be granted for messages which relate to political, religious or racial activities or causes."
The England and Wales Cricket Board has insisted it had no issues with Ali's conduct and that it should be up to the ICC to decide if he faced censure.