Photos of the moment President Donald Trump learned of North Korea's missile launch and shots of a soldier carrying a mobile nuclear launch unit have appeared online.
Both photos emerged after Trump's weekend getaway in Florida with Japanese Prime Minister Shinzo Abe, where the two world leaders played Trump's Mar-a-Lago golf course.
The photos posted on the Facebook account of actor Richard DeAgazio show Trump on his phone with Abe sitting next to him and a flurry of activity around the two leaders.
CNN reported details of how the two heads of state learned of the test while at dinner at Trump's Mar-a-Lago private club. Trump took the call on his mobile phone at the table, which was in the middle of the dining room. The dinner turned into a strategy session in full view of other diners, according to the CNN report.
"It was fascinating to watch the flurry of activity at dinner when the news came that North Korea had launched a missile in the direction of Japan," DeAgazio wrote on Facebook.
"The Prime Minister Abe of Japan huddles with his staff and the President is on the phone with Washington DC. The two world leaders then conferred and then went into another room for hastily arranged press conference," he wrote.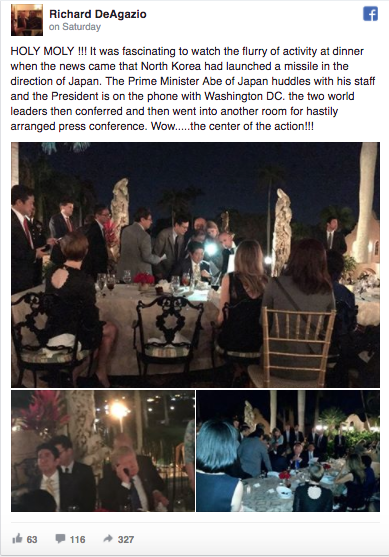 During the two-minute long press conference, Abe condemned the launch as "absolutely intolerable," and Trump said Washington would stand behind Japan, "its great ally, 100 percent."
DeAgazio also posted photos of him posing with 'Rick' – the man tasked with carrying the president's nuclear codes. DeAgazio described in detail the 'nuclear football', a mobile unit that allows the president to authorise a nuclear attack from anywhere in the world.
"It is held by an aide-de-camp, and Rick is the Man," DeAgazio wrote. He quickly removed the posts or made them private.