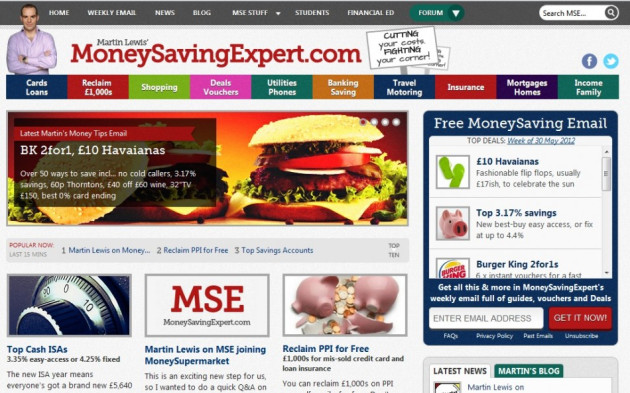 Martin Lewis has sold his MoneySavingExpert website, which offers consumer financial advice, in a deal worth a whopping £87m to price comparison group MoneySupermarket.
Lewis, who announced the deal on the MoneySavingExpert website, insists that there will be no change to what the website does and he will remain as editor-in-chief, retaining full control for at least three years.
"MoneySavingExpert.com has become part of people's daily lives, far bigger than the man who founded it, and now is the right time for it to stand on its own two feet," Lewis, who started the site in 2003, said in a statement.
MoneySupermarket will buy the website for an initial £60m in a mixture of cash and shares, with a further £27m promised if non-financial performance targets are met over the next three years. Lewis will pocket £35m in cash and 22.1m shares in MoneySupermarket.com.
Lewis said he will give £10m from the deal to charities, with £1m alone going to the hard-pressed Citizens Advice Bureau, suffering from government cutbacks, which offers free legal help and guidance to consumers.
The website attracted 39m unique visitors in the year ending 31 October 2011, generating revenues of £15.8m in the same period.
Its weekly email reaches 5m addresses.
"We've worked closely together for years with the common goal of helping customers save money," Peter Plumb, CEO of MoneySupermarket, said in a statement.
"By joining forces we can get more people to save more money.
"We'll help MoneySavingExpert reach a wider audience and it will broaden the range of advice and tools we offer, encouraging even more people to take action, tap into the benefits of the internet to find a better deal and make the most of their money."
Lewis has turned himself into a familiar face on TV, regularly appearing on shows dishing out advice to consumers on where to find discounts and save money, as well as how to claim back money from banks who had mis-sold payment protection insurance (PPI).