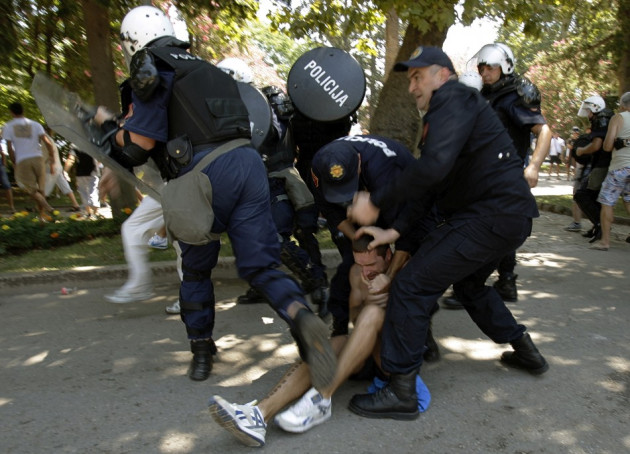 Hundreds of homophobic protesters have clashed with police in the conservative country of Montenegro during its first-ever gay pride parade.
Demonstrators hurled bottles and rocks at police and shouted "kill the gays" during the parade in the coastal town of Budva.
Despite the violence, the event still went ahead as planned as police brought in to deal with the expected disorder separated the extremists from those taking part in the parade.
The participants marched by the sea, before they stopped to hold speeches as extremists shouted insults from the distance.
One of the organisers of the parade, Aleksandar Zekovic, said: "Unfortunately, in 20 years of transition Montenegro has not matured enough to tolerate differences."
Zdravko Cimbaljevic, who in 2010 was the first person in Montenegro to openly declare that he was gay, added "I expected opposition but this attack is actually the real image of Montenegro."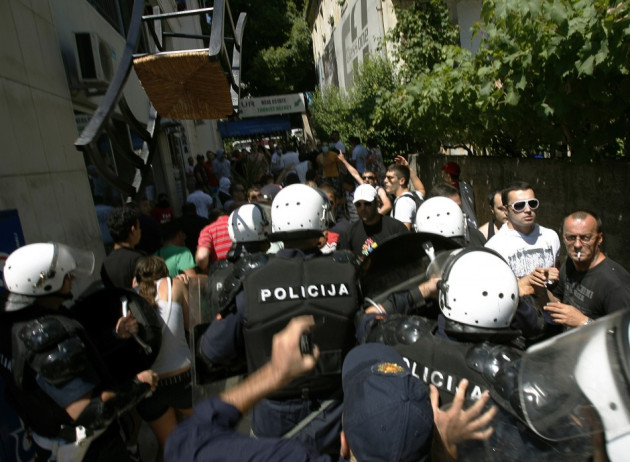 Montenegro is known for being staunchly traditional and the parade was met with opposition from all areas of the country.
Newspapers published obituaries for prominent gay activists ahead of the rally, while cafes in Budva - the country's number one tourist resort - stopped playing music for an hour the day before in protest.
Previous attempts to organise pride events in the country failed over threats of violence. The Government had expressed support for the event and urged tolerance in light of the country's desire to join the European Union.
Before being able to join the EU, the country must show it is ready to protect human rights. The Government has already passed a bill against all kinds of sexual discrimination.
However, in a recent Ipsos survey, 80% of Montenegrins believed homosexuality was an illness.
In neighbouring Serbia, which was in a state of union with Montenegro until 2006, a gay pride march was cancelled last October over fears it would be attacked by right-ring and ultra-nationalist groups.
Ahead of the event, the head of Serbia's Orthodox Church called the planned march "a parade of shame".
Dozens of people were injured during a previous parade in Serbia in 2011 as opposing groups clashed with police.