Moody's Axes Britain's AAA Debt Rating in Blow to Chancellor George Osborne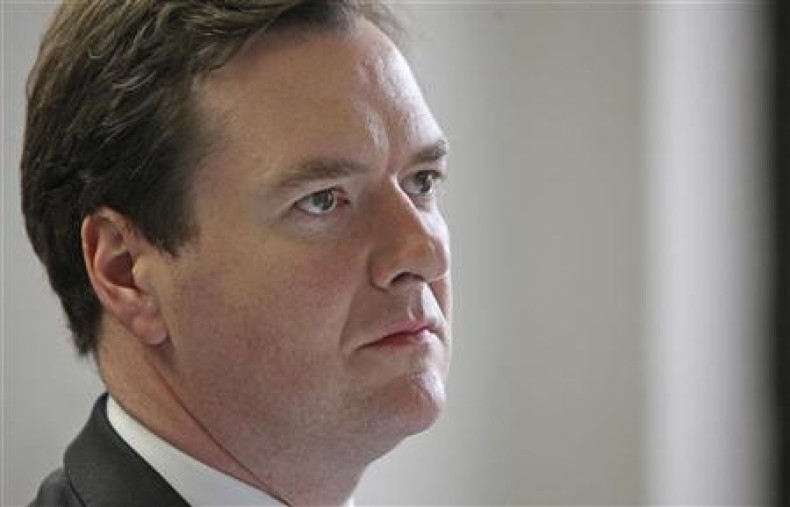 Moody's Investors Service has cut Britain's AAA debt rating for the first time, dealing a major blow to Chancellor George Osborne just weeks before his make-or-break budget statement.
Moody's cut its rating by one notch to Aa1, the company said in a statement published Friday on its website, the first of the three major ratings agencies to lower the coveted triple-A grade following slower than expect economic growth, a rising budget deficit and higher overall borrowing by the Conservative-led coalition government. Moody's had warned of a potential downgrade on 13 February last year.
"Despite considerable structural economic strengths, the UK's economic growth will remain sluggish over the next few years due to the anticipated slow growth of the global economy and the drag on the UK economy from the ongoing domestic public- and private-sector deleveraging process," said Moody's. "The sluggish growth environment in turn poses an increasing challenge to the government's fiscal consolidation efforts, which represents the second driver informing Moody's one-notch downgrade of the UK's sovereign rating."
Moody's also cut the debt rating of the Bank of England by one notch to Aa1 from AAA.
Osborne, who had said from the outset of his term as Chancellor that Britain's coveted triple-A debt rating needed to be defended at all costs, reacted defiantly to the historic downgrade.
"Tonight we have a stark reminder of the debt problems facing our country - and the clearest possible warning to anyone who thinks we can run away from dealing with those problems," said Osborne in a Treasury statement. "Far from weakening our resolve to deliver our economic recovery plan, this decision redoubles it."
The Chancellor's 2013 Budget Statement is scheduled for Wednesday 20 March.
Moody's also referenced the Chancellor's recent admission that his pledge to lower overall government debt, as a proportion of GDP, would need to be extended into the next parliament.
"Moody's believes that the mounting debt levels in a low-growth environment have impaired the sovereign's ability to contain and quickly reverse the impact of adverse economic or financial shocks," the ratings firm said. "For example, given the pace of deficit and debt reduction that Moody's has observed since 2010, there is a risk that the UK government may not be able to reverse the debt trajectory before the next economic shock or cyclical downturn in the economy."
On Friday 22 February, the European Commission said in its Winter Economic Forecast that its expects Britain's budget deficit to widen to 7 percent of GDP in 2013/2014 financial year and sees overall government debt rising to a record 97.1 percent of GDP by the 2014/2015 financial year.
"While the UK government sticks to its fiscal consolidation strategy, borrowing in the financial year to-date is higher than in the previous year mainly due to weak corporate tax receipts, linked to the temporary closure of the biggest oil field," the Commission said.
Britain's Office for Budget Responsibility, a non-partisan watchdog of the nation's public finances created by the Chancellor, said in December that it expects UK GDP to grow by 1.2 percent this year, 2 percent in 2014 and 2.3 percent in 2015. The International Monetary Fund downgraded its forecast for UK GDP last month in its latest World Economic Outlook and now expects growth of 1 percent this year, and 1.9 percent in 2014.
Standard & Poor's lowered its outlook on Britain's triple-A debt rating in December, just hours after Osborne defended his controversial budget statement to UK lawmakers.
The ratings firm changed its outlook from stable to negative, suggesting a one-in-three chance that a downgrade could come within the next two years and cited the chancellor's admission that Britain's overall debt, as a percentage of its economy, would continue to rise until 2015 before declining again.
"We are therefore revising our outlook on the unsolicited long-term ratings on the UK to negative, from stable, reflecting our view of a one-in-three chance that we could lower the ratings if the UK's economic and fiscal performances weaken beyond our current expectations," S&P said at the time.
Fitch Ratings warned in October that rising budget deficits and the ongoing financial crisis in Europe could threaten its coveted Triple-A assessment. Fitch has a negative outlook, which it first announced in March, tagged to the triple-A grade and expects it to remain in place until at least 2014. The ratings firm said at the time that it wants to monitor overall economic growth and the changing nature of the UK's public finances until it makes a final decision on the rating.
"(Fitch) believes the UK's high-income, flexible and diversified economy, robust institutions, and high degree of political and social stability support the 'AAA' rating," the group said. However, "with a structural budget deficit second in size within the 'AAA' category only to the United States and general government gross debt approaching 100 percent of GDP in 2015-2016 ... the likelihood of a downgrade has therefore increased."
Benchmark UK government bonds, known as gilts, closed trading at around 2.10 percent on Friday 22 February and have risen around 50 basis points, or 0.5 percent, since August. Bond prices and bond yields move in opposite directions.
Sterling fell to $1.5230 against the US dollar this week, its lowest level for nearly three years, as the Bank of England appeared divided on the issue of deeper stimulus for the moribund economy and Governor Mervyn King was outvoted by his colleagues in an effort to add to the Bank's £375 billion programme of quantitative easing.