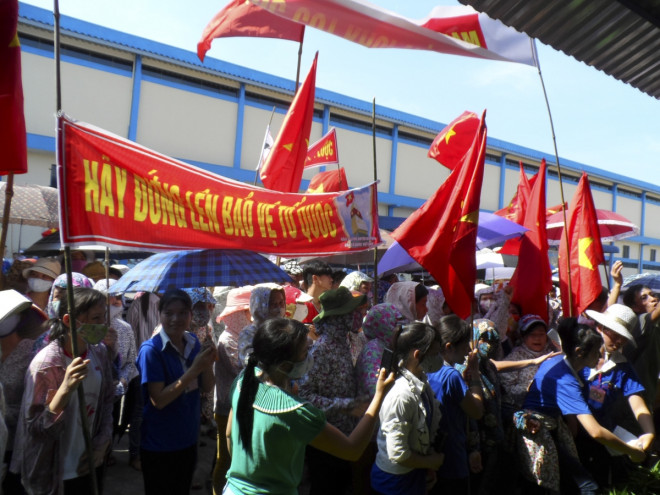 More than 20 people were killed when rioters attacked a steel plant overnight as anti-China violence spread from the south to the centre of Vietnam.
Five Vietnamese workers and 16 others described as Chinese were killed in the riots, according to Reuters who cited a doctor in Ha Tinh province.
"There were about a hundred people sent to the hospital last night. Many were Chinese. More are being sent to the hospital this morning," the doctor at Ha Tinh General Hospital told Reuters by phone.
The violence marks one of the darkest moments in Sino-Vietnamese relations for decades.
Local newspapers reported that hundreds of Chinese had fled Vietnam to neighbouring Cambodia or by plane.
Taiwanese media said rioters attacked a massive steel plant in Ha Tinh province, owned by the Taiwanese Formosa Plastics Group. It is set to be Southeast Asia's largest steel plant and will have a seaport and a 2.150 Megawatt power plant upon completion in 2020.
Taiwanese businesses are among the biggest casualties of the attacks as rioters have mistaken them for Chinese-owned companies.
An industry association said on Tuesday that Taiwanese companies with business in Vietnam had already lost billions of dollars since the dispute between China and Vietnam ignited earlier this month.
Taiwan's foreign ministry spokeswoman expressed ''serious concerns" to Vietnam over the safety of an estimated 40,000 Taiwanese business people in Vietnam. When the crisis recedes, Taiwan has asked the Vietnam government to "act responsibly by looking to compensate our business people," Anna Kao said.
20,000 Vietnamese rampaged in two industrial zones in the country on Tuesday, attacking what they thought were Chinese factories and setting them ablaze.
The dispute originated when China deployed a giant oil rig in a disputed area of the South China Sea at the start of the month, prompting both sides to send extra ships to the waters around the Paracel Islands.
It is rare for Vietnam's authorities to allow anti-Chinese anger to explode in public and some analysts take that as a worrying sign that the tensions could escalate.