More than 3,000 evacuated from eastern Aleppo after Syria, Russia and Turkey strike deal
Evacuation could 'take days' as the exact number of people still awaiting rescue remains unclear.
More than 3,000 people have been evacuated from the besieged areas of eastern Aleppo, the International Committee of the Red Cross has confirmed.
In a deal brokered between Syria, Turkey and Russia, green government buses shuttled civilians of the Syrian capital to the city of Idlib, roughly 60km (37.3 miles) south-west of Aleppo.
It will end months of suffering for the civilians of east Aleppo, who endured Russian bombardment as well as living among insurgents from groups such as Fatah Halab (Conquest of Aleppo), the Free Syrian Army and the al-Qaeda-linked Jabhat Fateh al-Sham.
Marianne Gasser, head of the ICRC in Syria, said the evacuation of people from the city could take days.
"When we arrived, the scene was heart-breaking," she said.
"People are faced with impossible choices. You see their eyes filled with sadness. It was very moving.
"No one knows how many people are left in the east, and the evacuation could take days. Working alongside the Syrian Arab Red Crescent, we will continue to act as a neutral intermediary, and help as many people as possible who are in need."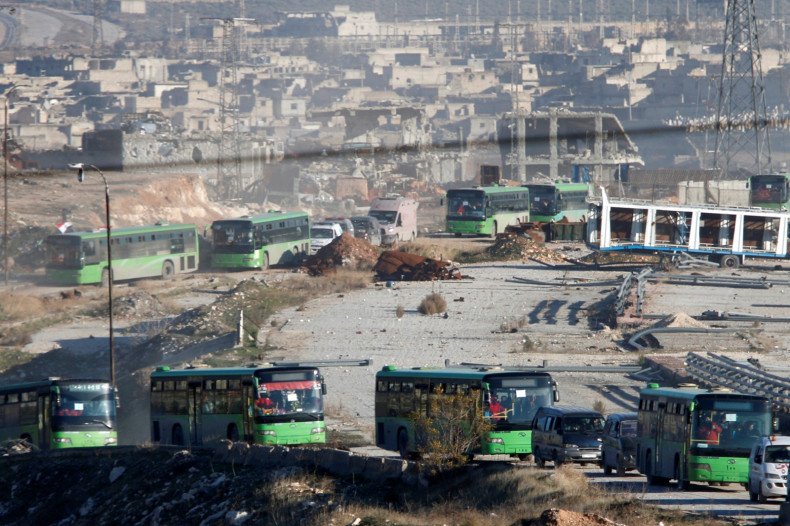 Most have been without food or water for days.
One woman, among the first to be interviewed since the Syrian Arab Army (SAA) recaptured a majority of the city, was seen wearing the Syrian flag around her neck as she was interviewed by Syrian television al-Antasar Halab.
"I have been saving this flag for this day," she said. "My son is a soldier in the army. I missed him so much. I'm going to see him now.
"They starved us. We are so hungry. We're so glad we made it through the danger. "We've been trying to cross for a week now and finally God paved the way for us."
The United Nations also confirmed it would monitor and assist in the effort to evacuate people from the remaining besieged areas of Aleppo, after it was invited by the Syrian government.
The humanitarian organisation estimates some 50,000 people have been displaced from east Aleppo, most of who have been assisted through UN relief efforts, but that many remain without humanitarian protection because the UN is unable to move freely in the area.
Jan Egeland, the UN Senior Adviser on Syria, said in a statement released to IBTimes UK: "All of the parties on the ground are guilty of blocking access for international humanitarian workers. I cannot recall a war where this has been such an acute problem in the last generation."
Among the sick, elderly and wounded, insurgents and fighters were also transported to Idlib, if they chose to.
Syrian President Bashar al-Assad, explained the rationale for allowing those insurgents to leave, rather than imprisoning them, in an interview with RT.
He said: "You always have things to lose and things to gain, and when the gain is more than what you lose, you go for that gain.
"In that case, our priority is to protect the area from being destroyed because of the war, to protect the civilians who live there, to give those civilians a chance to leave through the open gates, to leave that area to the areas controlled by the government and to give the chance to the terrorists to change their minds, to join the government and to go back to their normal life and to get amnesty.
"When they don't, they can leave with their armaments, but this is not our priority because if you fight them in any other areas outside the city, you're going to have less destruction and less civilian casualties."