More than 500 headmasters from schools across the UK have accused Prime Minister Theresa May of leaving the education system on the brink of collapse.
It follows plans from the Conservative government to cut £3bn ($3.87bn) from school budgets by 2020, while devoting £320m of funding to create 140 new free schools, expected to turn into grammar schools.
The head teachers, who are members of the National Association of Head Teachers (NAHT) union, penned a letter to May demanding she reverses her plan to make the cuts, arguing that the lives of millions of students will be put in jeopardy.
In the letter, seen by The Mirror, NAHT General Secretary Russell Hobby says: "Dear prime minister, on the steps of Downing Street you promised a country that works for everyone. That begins with our children.
"Yet schools are facing real-terms cuts of £3bn. This will have a massive impact on young people and standards of education.
"To make ends meet, head teachers will be forced to make staff redundant, cut subjects, increase class size and cut back on extracurricular activity.
"More and more schools are reluctantly asking for donations as a last resort to bring their budgets back from breaking point. Parents should not have to dip into their own pockets to make up for the investment government is unwilling to provide.
"The future of our country depends upon the next generation: their skills, their knowledge, their confidence and their creativity.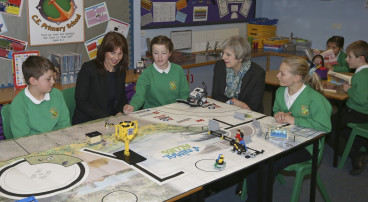 "Let's stop seeing education as a cost and instead see it as an investment in the future. A good place to begin would be to reverse the £3bn in cuts."
However, the Department of Education (DoE) insists that schools funding is at an all-time high.
"We recognise that schools are facing cost pressures, which is why we will continue to provide support to help them use their funding in cost-effective ways and make efficiencies," a DoE spokesperson said.
"This includes improving the way they buy goods and services and our recently published School Buying Strategy is designed to help schools save over £1bn a year by 2019-20 on non-staff spend."