Rate of prison suicides has more than doubled since 2013
Scale of 'prisons crisis' laid bare as fresh statistics show record levels of violence and self-harm.
The scale of the prisons crisis in England and Wales has been laid bare after fresh figures showed record levels of violence and a suicide rate that has more than doubled since 2013.
Ministry of Justice statistics released on Thursday (27 April) show 113 prisoners, including 10 women, killed themselves in the year ending March 2017 – a rise of 11 over the previous year.
The rate of prison suicides has more than doubled since 2013, from 0.6 to 1.3 per 1,000 prisoners, while among female prisoners it has soared from 1 to 2.6 per 1,000.
Separate figures show there has also been a 27% rise in assaults and a 24% rise in self-harm incidents in the 12 months to December 2016 – both record highs.
There has also been a 38% rise in assaults on prison staff.
Some of the rise in violence has been blamed by the government on prisons being flooded with dangerous psychoactive drugs, like spice.
But prison reform campaigners say cuts to frontline staff and a record prison population has also led to a decline in conditions behind bars, which has descended into rioting in some jails.
Frances Crook, chief executive of the Howard League for Penal Reform, described the most recent figures as "unutterably terrible".
"It is frankly shameful that such human misery under the supposed care of the state is allowed to continue in the 21st century," she said. "The general election is only six weeks away and the political parties must address this crisis directly."
Crook says a deterioration of conditions behind bars could be eased by reducing the prison population, which has more than doubled in the past two decades.
Peter Dawson, director of the Prison Reform Trust, echoed the calls, saying an "overcrowded" prison system could no longer cope.
"People are being maimed and dying in unprecedented numbers as a direct consequence," he said. "Two years of positive rhetoric from the government about prison reform has done nothing to stop a relentless decline in safety.
"There is no end in sight, and a new government must make a reduction in imprisonment a top priority."
It comes after the Conservative government was earlier this year forced to roll back on a 25% cut to frontline prison officer numbers implemented under former Tory Justice Secretary Chris Grayling – admitting it had contributed to record levels of disorder in prisons.
The current justice secretary, Liz Truss, has invested £100m ($128m) a year to boost frontline staff numbers by 2,500 officers as part of a package of prison reforms announced in February.
While former Conservative justice secretaries, including Ken Clarke and Michael Gove, have backed calls for the prison population to be reduced, Truss denounced the idea as a "dangerous quick fix".
A spokesman for the Ministry of Justice said they were unable to comment on the recent figures due to restrictions imposed by "purdah" during the general election period.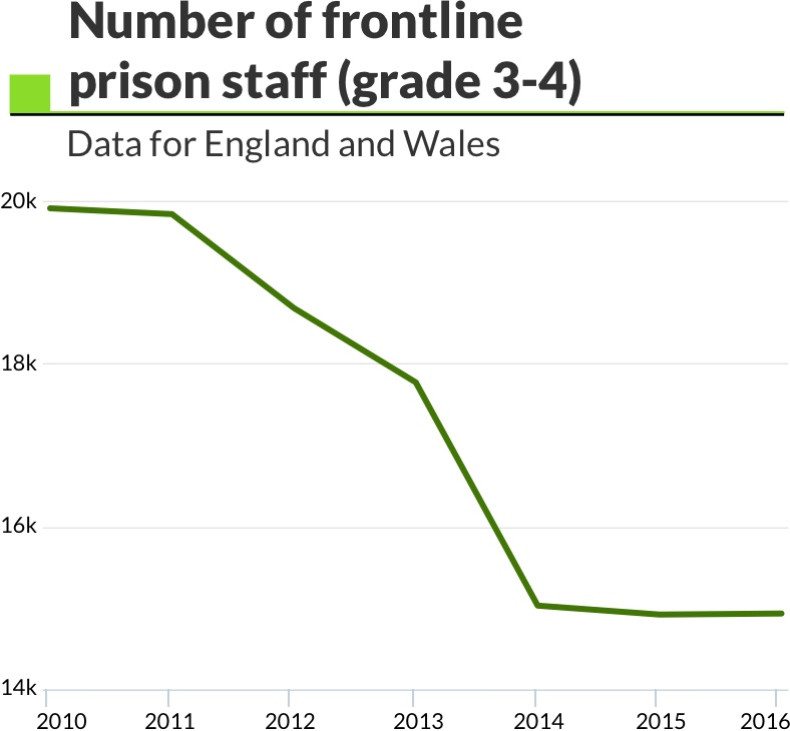 Prisons crisis in numbers (source: Ministry of Justice)
In the 12 months to December 2016, there were 40,161 reported incidents of self-harm (a rate of 471 per 1,000 prisoners), up 24% on the previous year.
The number of self-harm incidents requiring hospital attendance increased by 21% on the previous year to 2,740.
In the 12 months to December 2016, there were 26,022 assault incidents (a rate of 305 incidents per 1,000 prisoners), an increase of 27% on the previous year, and the highest level in the time series. Of these, 3,519 were serious assaults, up 25% on the previous year.
There were 6,844 assaults on staff in the 12 months to December 2016 (a rate of 80 per 1,000 prisoners), up 38% on the previous year.
There were 113 self-inflicted deaths, up 11, 10 of which were in the female estate. The rate of self-inflicted deaths has more than doubled since 2013