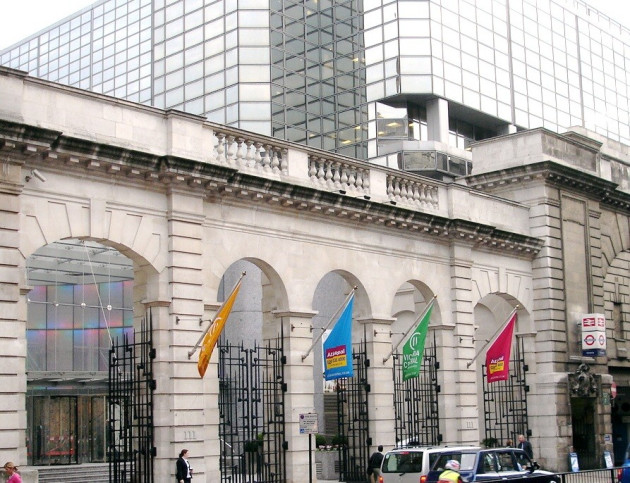 Two men in their 40s stole millions from banks who fell for their bogus credentials in Britain's biggest-ever mortgage fraud.
Achilleas Kallakis and Alex Williams, both 44, raked in around £750m in financing from international banks using confidence tricks.
Kallakis played the role of property tycoon by using a private jet to shuttle between offices in Mayfair and a super-yacht in Monaco. He bet huge sums on games of poker and backgammon in casinos to create the impression of an international playboy.
Kallakis had a portfolio of prestigious properties including the headquarters of the Telegraph Media Group, in Victoria, and former Home Office buildings in Croydon. He also claimed he was the author of a book called The Wonders of Italy, and that he was an ambassador to Prince Albert of Monaco.

Big international banks including AIG lent enormous sums on the back of bogus guarantees from a Hong Kong investment firm, Sun Hung Kai Properties (SHKP). Financial professionals reportedly asked no questions when told they could not contact SHKP because that would make the guarantees crumble.
Fraudsters Kallakis and Williams went way back together to their university days. Kallakis was the public face of the operation, with Williams in a backroom role. Former colleagues remembered Williams as a quiet man who ate Pot Noodle at his desk.
Barclays Bank financed Kallakis's 190-foot long super-yacht in Monaco called Lady K II. Another firm called GE Capital financed a $44m private jet and a helicopter which cost $8.4m.
Even taxpayer-owned Royal Bank of Scotland helped finance the pair's lavish spending, allowing them to spend €24m on saving a passenger ferry from the scrapyard and converting it into a super yacht.
Kallakis and Williams even went to the length of hiring actors to maintain the façade. An actor was engaged to meet AIB staff when the bank began to carry out checks in 2007. They were duped by the ruse, even though the imposter oddly had no business cards.
Not even a brush with the law discouraged the pair from tricking banks into handing over hundreds of millions in loans. They previously sold bogus peerages to Americans desperate for a route into English aristocratic life.
Kallakis was so adept at tricking his way into influential circles that a picture could be shown of him with Lady Thatcher.
German bank Helaba eventually blew apart the illusion by carrying out a detailed investigation. AIB, the biggest losers in the case, were clueless until being informed by their rvials. Senior staff had just opened invitations from Kallakis to his 40th birthday on a Greek island.
At Southwark crown court, Kallakis and Williams were found guilty of defrauding banks. Kallakis kept up the pretense by claiming all his sources were legitimate.
Kallakis was sentenced to seven years, while Williams was jailed for five. Both men were disqualified for holding a directorship for six years.
They were allegedly helped in the five-year scam by a Swiss-based lawyer named Michael Becker, a director of firms which the fraudsters used to secure loans from banks. He did not stand trial because he was beyond the reach of UK justice.