Isis car bomb in Baghdad kills at least 4 traffic policemen
The car bomb reportedly targeted a busy street in the Iraqi capital, which houses several foreign media offices.
Isis claimed responsibility after a suicide car bomb near a traffic police station in central Baghdad killed at least four policemen on Friday (28 April) night.
A security spokesman told Reuters that the explosion took place at Abu Nawas Street — a busy street in the Iraqi capital, which houses several foreign media offices. The street runs alongside the east bank of the Tigris River and is close to the French embassy, the person added.
Police and hospital sources, meanwhile, told the Associated Press that the attack targeted an entrance to the traffic police station in Baghdad's Karrada neighbourhood.
A small crowd had gathered around the bombing scene where the burning shell of the car used for the suicide mission could be seen sending up a plume of thick black smoke. Police fired into the air to disperse the crowd.
The exact death toll is still not confirmed, but Saad Mann, a spokesman for the Interior Ministry and Baghdad Operations Command, told the AP that only three police personnel were killed in the attack.
He made no comments on the number of injured, but sources told the agency that at least eight people were wounded in the bombing.
Reuters quoted the security spokesman as saying that five people were injured in the incident.
The Isis bombing incident is the latest in a series of similar attacks that have battered the Iraqi capital. The attack comes amid ongoing clashes between the Islamist militants and Iraqi government forces in western Mosul.
Having liberated east Mosul in late January, the government forces had launched the west Mosul campaign around the second week of February. US-led coalition forces are providing air support to Iraqi troops. Mosul is the last Isis stronghold in Iraq.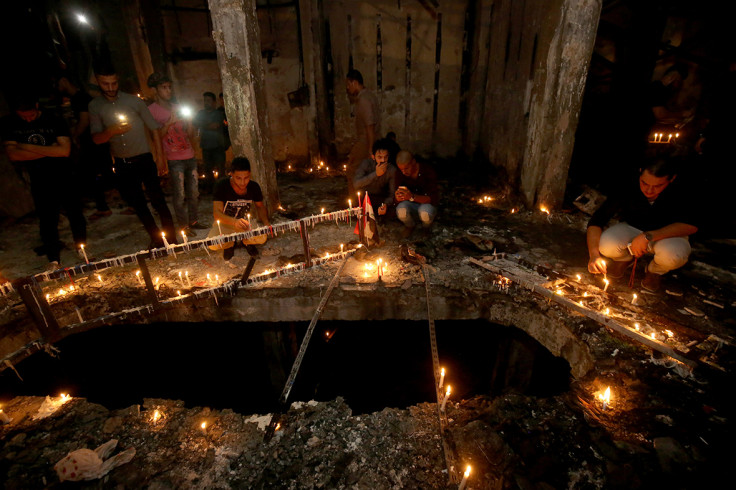 © Copyright IBTimes 2023. All rights reserved.