The so-called 'Mother of All Rallies' that expected "one million" Americans to come together for the "Making America Great Again" agenda in support of President Donald Trump, actually pulled a crowd of merely a few hundred at the National Mall in Washington DC on Saturday (16 September).
Also known as Moar, the pro-Trump rally was organised to ensure the "voices of mainstream Americans" are heard and to protect and preserve American culture.
While the Washington metropolitan police estimated the crowd size at 1,800, journalists on the ground said not more than 1,000 people were present, causing a huge embarrassment to the organisers of the rally.
However, the few hundred who made it to the event reportedly tried to make some noise in support of Trump, who skipped town for a weekend retreat in New Jersey.
Those rallied included right-wing militia groups who advocate "the preservation of western culture" and armed resistance to government overreach, the Independent reported. Some of them even describe themselves as "western chauvinists".
The rally was preceded by a small anti-Trump march by about two dozen people near the White House on Saturday morning. The protesters demanded tougher American action against Russian President Vladimir Putin for alleged interference by Moscow in the November US presidential election.
The march is reported to have briefly turned tense after members of the 'Black Lives Matter' movement arrived at the protest site. According to reports, an altercation initially took place between the two sides.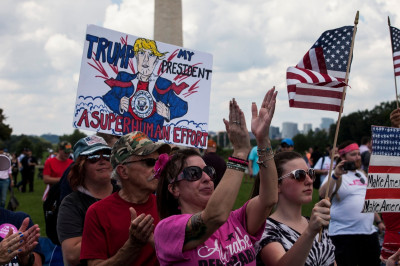 However, the tense situation was soon defused when a pro-Trump rally organiser invited the black activists to join them on stage.
"It's your right to say whatever you believe, and it's their (the crowd's) right to let you know what they think about what you're saying," the rally organiser said, according to the Associated Press.
"The important thing is that everybody has a right to speak their mind."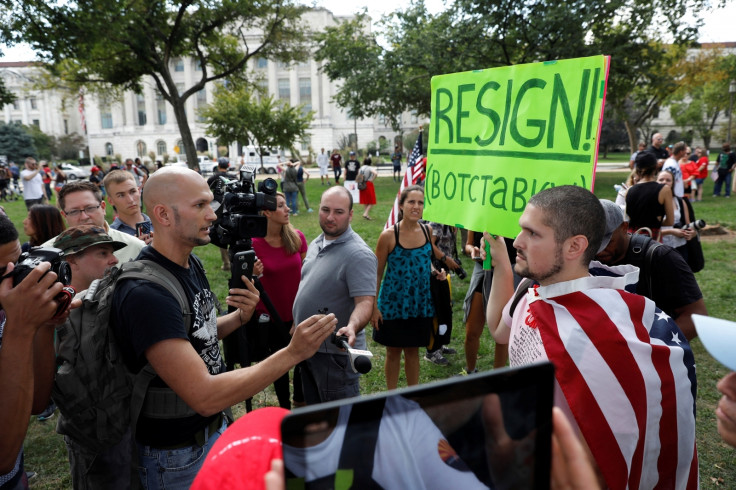 Although the pro-Trump protesters outnumbered the anti-Trump demonstrators, both the sides were dwarfed by the Juggalos – a different group of demonstrators who feel they have been misinterpreted in the country.
Juggalos is the name given to the supporters of a Detroit rap group called Insane Clown Posse, who are known to wear clown make-up and distinctive clothing and tattoos.
They gathered on the National Mall, the same venue as the pro-Trump rally, to protest against the FBI labelling them – back in 2011 – as a "loosely organised hybrid gang" who exhibit "gang-like behaviour and engage in criminal activity and violence".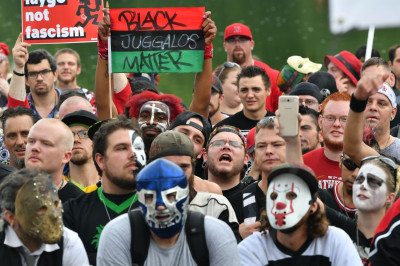 The Juggalos are reported to have claimed that they lost jobs or custody of their children due to the FBI label.
According to an AP report, about 1,500 Juggalos took part in the all-day-long rally.