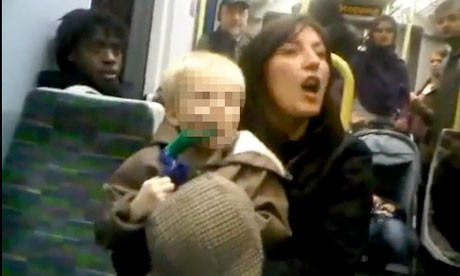 Police have arrested a 34-year-old woman from London after her racist rant on a tram against fellow travellers was captured on film and uploaded on YouTube.
The offending footage, which shows the white woman hurling abuse at black and foreign commuters on board the tram, went viral within hours of being posted online.
The woman was identified and arrested after viewers enraged by the video brought it to the attention of the transport police, prompting them to investigate.
The shocking two and a half minute video, called 'My Tram Experience,' shows the woman launch into foul-mouthed rant and telling black and Asian passengers to "go back to where you come from!" whilst her young child sits on her knee.
She continues by accusing her fellow commuters of not being British and ruining 'Her Britain' and yells: "What has this country come to? ... with loads of black people and a load of ***king Polish. You ain't English either. None of you are ***king English. Get back to your own ***king, d'you know what?
"Sort out your own countries. Don't come and do mine. Britain is nothing now. Britain is ***k all."
Despite a passenger asking her to mind her language as children are present, the woman defiantly points at her own child and declares "I've got a little kid here."
Onlookers on the Croydon-to-Wimbledon route appear shocked and disgusted as the profane tirade continues.
The British Transport Police said on their Twitter account last night: "We've arrested a 34yo woman for racially aggravated public order offence as a result of #mytramexperience video brought to our attn."
The clip of the heated confrontation, which was discreetly captured by a passenger, sparked worldwide outrage just hours after it surfaced on YouTube on Sunday. It has since been viewed more than 2 million times.