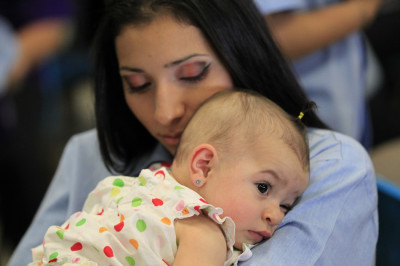 Seven-year-old Levell Jones listened to his mother calmly as she tied her shoelace. Jones, who had not seen his mother in 17 months, visited her at the California Institute for Women (CIW) state prison in Chino early May, not sure of when he would see her again.
There are many children like Jones, who have been visiting their mothers in prison at an annual Mother's Day event, Get On The Bus, in California for the past 12 years as a part of collaboration between California Department of Corrections & Rehabilitation (CDCR) and the Center for Restorative Justice Works.
According to CDCR statistics, about 200,000 California children have an incarcerated parent and live with relatives or in foster care.
The Get on the Bus programme, which is funded by schools, churches and organisations alike, has become a way for such parents to stay connected with their children.
In the 13th year of the programme, 25 buses filled with over a thousand children and their caregivers travelled across San Diego, San Bernardino, Riverside, Los Angeles, Central Valley, Sacramento, Oakland, San Francisco and Santa Rosa on 5 May, to CIW to let children celebrate Mother's Day with their mothers in prison.
On Friday, 11 May, these buses will travel to Central California Women's Facility and Valley State Prison for Women in Chowchilla, CDCR said in a statement.
"Get on the Bus provides free transportation for children and their caregivers, travel bags for the children, comfort care bags for the caregivers, a photograph of each child with his or her mother, and meals for the day. On the bus trip home, after the visit with the mothers, each child will receive a teddy bear with a letter from his or her mother, as well as post-event counseling," it said.
As we prepare to shower love upon our mothers this Mother's Day on Sunday, here are a few heart-moving pictures of these children who bring Mother's Day cards, which read "I love you Mom," for their inmate mothers, but are left with no choice than to part from them with tears.