Lenovo's unreleased device the Moto X 2016 may have replaceable back covers, as per recently leaked photos of the phone. The Moto X series, which is Motorola's flagship series, is slated to be called the Moto Z series from 2016 onwards.
Famed leak site for Motorola devices, hellomotoHK, posted a few pictures on its Google Plus accounts showcasing the possible back panels to appear with the Moto Z. It was reported earlier that this year there will be two variants of the Moto Z - the Moto Z Style and the Moto Z Play. This is similar to the Moto X Style and Moto X Play models from the company in 2015.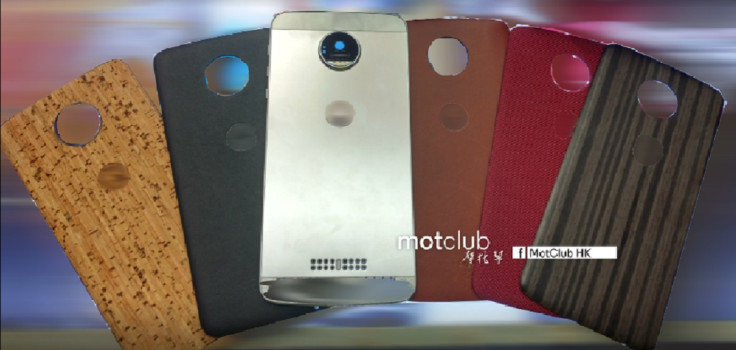 As seen in the picture, there are several back panel options including one with a full metal body. Earlier reports had indicated that the Moto X to be released in 2016 would sport a full metal design. It now seems along with the metal design model, the replaceable back cover models may also be introduced.
As for the specifications of the device, according to an earlier GeekBench listing, it is tipped to have 5.5-inch QHD AMOLED display with a 2.0GHz Qualcomm Snapdragon 820 Quad Core SoC. The Moto X Style variant may get a larger screen size at 5.7-inches.
While there are no reliable reports on the RAM capacity, if it is to compete with the flagships from other companies, the base model must have at least 3GB of RAM. Given that the recently released Moto G4 Plus which is positioned as a mid-segment handset also has 3GB RAM, the Moto X/Z should fulfil this criteria.
Some reports had suggested that "Heat Pipe" might also be installed in the device to sort out heating issues. The heat pipe cooling technology is generally used in PCs, especially laptops.
Although no clear date for the release has been set, as Moto X smartphones have not followed a clear release pattern, it is speculated that Motorola would make an announcement about the handset on 9 June. Recently, as the company announced its Zuk Z2 Pro in Beijing, Lenovo chief executive officer Yang Yuanqing said Motorola would launch a new device on 9 June, without providing any details about the product but said it would be nothing less than exciting.