A motorcyclist has been caught using a 'James Bond' style gadget to hide his license plate from police in order to avoid speed cameras.
Traffic police in Spain discovered the modified license plate fitted to the bike of a Swiss national had the ability to flip up at the press of a button in order to conceal it from police and traffic cameras. The unlawful addition is akin to that seen on Sean Connery's Aston Martin DB5 in Goldfinger whereby the secret agent's plate could revolve to reveal another.
According to a report on the Catalan police website, using the secret gadget led to the motorcyclist's downfall after the Mossos d'Esquadra (police squad) in the Girona region noticed the rider was travelling without a license plate.
After pursuing and pulling the motorcyclist over they noticed the number plate had mysteriously re-appeared. A swift search of the vehicle resulted in officers finding the activation switch to move the license plate up and down, so as to thwart any speed camera traps.
The rider was found guilty of violating Article 77 of the Law on Road Safety that prevents a vehicle having any systems, mechanisms or radar jammers fitted designed to interfere with traffic monitoring systems. As a result six points were added to the rider's license and they received a €6,000 (£5,300) fine.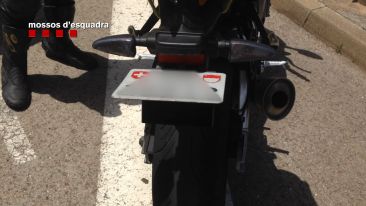 Any motorists thinking of masterminding an evil plan to conceal their own license plate might want to think twice. Despite kits being readily available on eBay, known as 'stealth number plates', for as little as £95 that can cover number plates at the press of a button, in the UK it could land drivers with up to two years in prison if found using it.