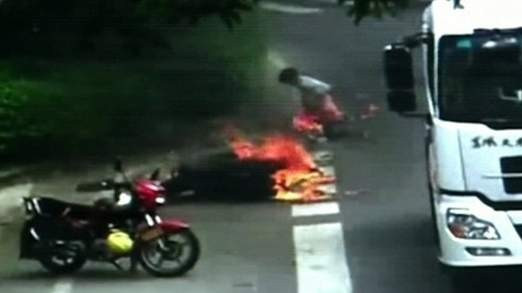 Dramatic CCTV footage from China shows a woman bursting into flames after her motorbike is struck by a truck and the fuel tank explodes.
The motorbike collides with the lorry in Foshan City.
As the the vehicle crashes it cartwheels and the friction ignites fuel from the punctured tank. The flames then engulf both vehicle and rider.
The motorcyclist manages to struggle to some roadside bushes, where passersby help to put out the flames.
Zeng Lizhi, a fireman who attended the scene, said the quick thinking of the witnesses helped the woman avoid serious injury.
The woman was treated in hospital, but her condition is unknown.
China is one of the world's most dangerous countries for drivers.
There are 220,000 deaths on China's roads every year, almost a quarter of the world's total road deaths.
Though the country has only a third as many vehicles as the US, the annual death toll on the roads is 20,000 higher.