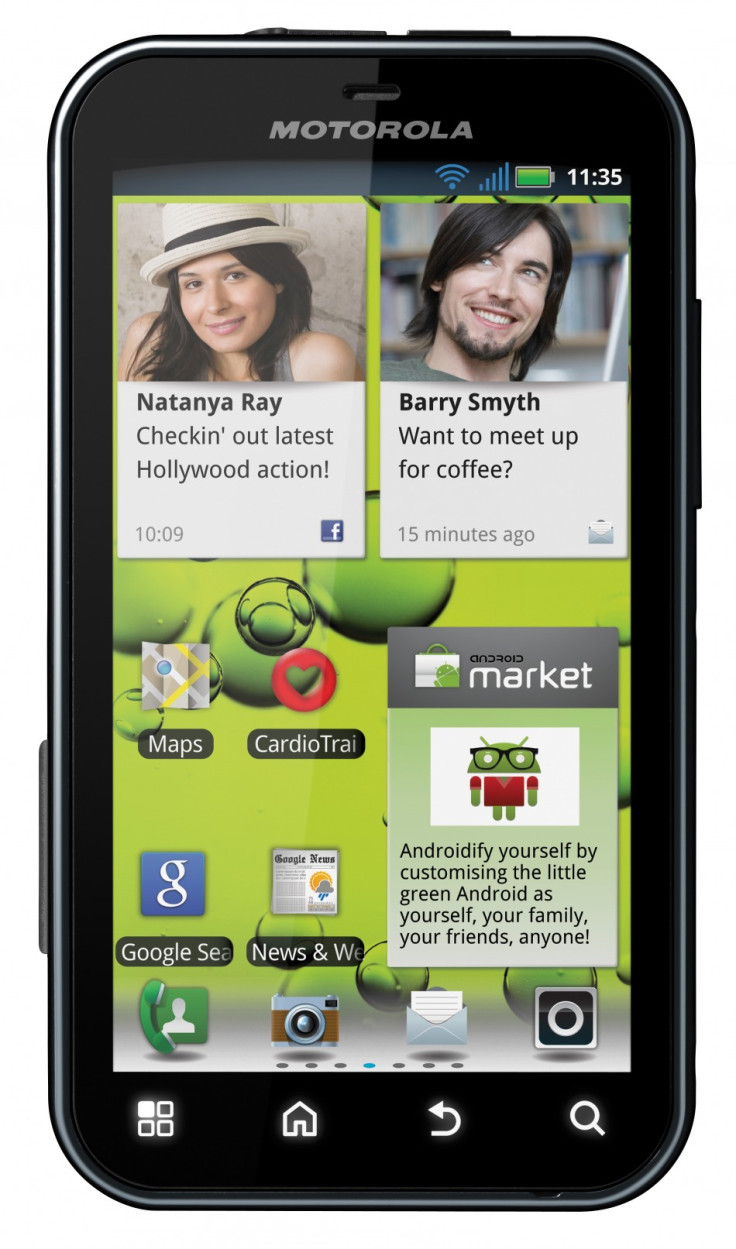 Motorola has released fresh data regarding its forthcoming Defy+ smartphone, pegging it for a September release and leading many analysts to question whether it will be able to compete with the slew of confirmed and rumoured devices sharing its release window.
Announced in August, like the original DEFY smartphone Motorola released in 2010, the new DEFY+ will reportedly be made for the more "active" smartphone user.
In its most recent statement Motorola updated its release estimate saying it expected the Defy+ to be available in the UK nect month.
Like its predecessor, the DEFY+ will be "water-resistant, dustproof, and featuring scratch-resistant Corning Gorilla Glass."
The device will reportedly fix several of the original DEFY's defects, chief of which was its low processing power. In a release Motorola confirmed the DEFY+ will boast a 1GHz processor, a 3.7-inch high-resolution touch screen and a five mega-pixel camera.
Additionally the DEFY+ promises to run using Google's Android version 2.3 operating system, come loaded with two GB of internal storage -- upgradable to 32 GB with microSD cards -- and boast a battery life of 7.1 hours talk time.
"Motorola DEFY+, our latest life-proof smartphone, delivers the endurance and design strength to keep up with even the most demanding lifestyles, along with the social and entertainment capabilities that put friends and fun in easy reach," said Victoria McManus, UK marketing director of Motorola Mobility. "We designed Motorola DEFY+ with all the smartphone features you need for a demanding lifestyle."
Apple iPhone?
The news that the Defy+ is set for a September release has set tongues wagging as to whether the device will be able to cut itself its own corner of the market. Chief among the list of devices set to damage Defy+ sales, is Apple's much-anticipated iPhone 5 smartphone.
Despite no official confirmation -- or word at all -- from Apple, numerous sources have released unconfirmed reports suggesting the device will come out in September or October.
Most recently reports from TiPb and 9 to 5 Mac suggested that Apple had instructed its manufacturers to begin production of the device for an October release.
Citing an unnamed source, 9 to 5 Mac claimed that Apple plans to release its next smartphone Oct. 7 to 14. The same source predicted pre-orders would open Sept. 29 or 30.

Other "Unbreakable" Handsets
As well as the unconfirmed iPhone 5, the Defy+ will also have to compete with a slew of other handsets boasting similar claims of indestructibility.
Chief among its "robust handset" competitors will be Samsung's Xcover and Sony Ericsson's Xperia Active.
Samsung announced the Xcover smartphone on Aug. 12. One of the latest in its line of Android running smartphones, the Xcover will be its most robust smartphone to date, the company says.
Like the DEFY+, the Xcover is set to run using Android 2.3 Gingerbread. Unfortunately, the initial tech spec announced by Samsung shows it to be slightly less powerful than the DEFY+. The Xcover is currently listed as housing an 800MHz processor, 150MB of memory, 2GB of storage -- upgradable via the device's microSD slot -- and a 3.65 inch touchscreen.
In the statement accompanying the Xcover's release Samsung said the smartphone would be waterproof to a depth of one metre.
Announced before the Samsung Xcover or Motorola DEFY+, the Xperia Active is the third major smartphone being marketed as "indestructible."
Out of the three devices, the Xperia Active has the lowest tech spec. Within its rubbery frame the Active will house a fairly small three-inch touchscreen, capable of 320x480-pixel resolution and a slightly more impressive five mega-pixel camera.
The device's battery will also be considerably less impressive with the company only estimating four hours and 53 minutes of talk time per charge.
Sony Ericsson is yet to confirm what the Xperia Active's processor speed will be though it will boast 512MB of RAM and come with 1GB of storage -- upgradable to 32GB.