The unannounced Motorola Droid Razr HD aka Motorola Droid Fighter is making its rounds on the internet. The smartphone is expected to arrive late summer on Verizon Wireless. Recently, a couple of photos of the Motorola Droid Razr HD have surfaced at Droid Life. The leaked photo suggests that the device's back cover is made of Kevlar and a rear-facing camera is located in the middle with LED flash and a speaker on the side.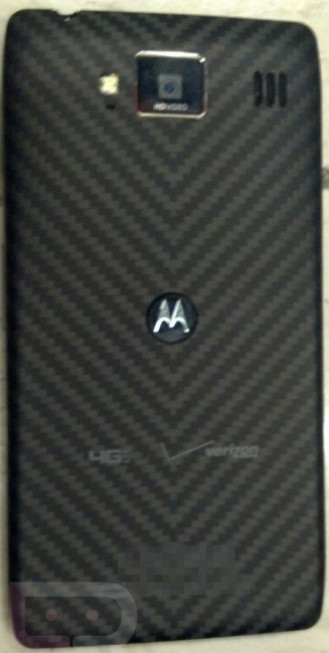 "Our source claims that the screen is "amazing" and that the phone also has expected on-screen navigation keys," claims Droid Life. The leaked photo below reveals that the micro HDMI and USB ports will be located on the bottom side of the smartphone.

The mysterious Droid Razr HD is rumoured to come with a 4.7in HD screen. According to reports, the device is expected to come with an improved 720p HD display. It is expected to have a whopping 3300mAh battery and thereby the leaked photo suggests less hump design. Rest of the rumoured specs include a Qualcomm S4 Snapdragon 1.5GHz dual-core processor, a 13 megapixel rear-facing camera, 16GB of internal storage and microSD card slot with an additional memory space of 32GB.
Apart from the leaked photos, interestingly a benchmark of the device seems to confirm some of the smartphone's features, according to Droid Life. The NenaMark2 reveals that the device is expected to be powered by the Qualcomm Snapdragon S4 dual-core processor which was clocked at 1.5GHz because the listing includes Qualcomm Adreno 225 GPU. In addition, the benchmark shows up that the device will run on the Android 4.0.4 and it has an HD 720p screen with a resolution of 1196 x 720. The NenaMark2 benchmark confirms the device will be headed to Verizon. There is no official announcement about the device's date of release; however, Droid Life guesses that it is still 5-8 weeks away from the release.