Motorola is set to introduce a new Intel-powered smartphone in the UK called the Razr M, a version of which it launched in the US this week.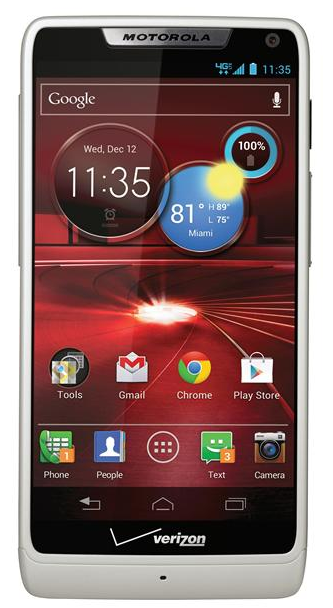 The company confirmed to website Pocket-lint that the version of thee Motorola Droid Razr M which will launch in the UK will use one of Intel's new low-powered Atom mobile chipsets, rather than the ARM-based chip which is inside the US version.
In total, Motorola announced three new Droid Razr smartphones: the Droid Razr HD, Droid Razr Maxx HD and Droid Razr M, all of which come with the faster 4G LTE technology. According to the spokesperson speaking to Pocket-lint, the version of the Droid Razr M that will be coming to the UK will have the same form factor as the Verizon version launching in the US.
However, as well as getting a different chip inside, the device will also get a name change.
The Motorola Razr M features include a strengthened aluminium frame, Kevlar backplate and a Gorilla Glass display. It has a 4.3in screen, Snapdragon S4 chipset with dual-core processor, an eight megapixel rear-facing camera, NFC capabilities and 8GB of storage.
On 31 August, Motorola and Intel announced they would be hosting an event in London to unveil an Intel-powered device on 18 September. The invitation says: "Let us take you to the edge," and shows an Intel Inside logo. The invite suggests that the device is expected to feature an edge-to-edge display - just like the Razr M.
At the international technology trade show CES last January, Motorola's then-CEO Sanjay Jha announced it would be partnering with Intel to produce phones using low-powered Atom chips, codenamed Medfield.
Intel is playing catch-up in the mobile devices space, as ARM-based chips from the likes of Qualcomm, Samsung, Texas Instruments and Nvidia currently dominate the smartphone and tablet markets.
The Motorola device will be the second smartphone to be powered by Intel launched in the UK. The low-powered Atom chip was first seen in the Orange San Diego.
The Orange San Diego (formerly known as Santa Clara) is powered by an Intel Atom Z2460 chipset with a 1.6GHz Atom processor and which Intel claims provides better image processing and power efficiency.
We are in the middle of one of the busiest periods of the year for smartphone launches, with Nokia the first out of the block this week with the launch of its first Windows Phone 8 devices - the Lumia 920 and the Lumia 820.
With Samsung having just launched the Galaxy Note 2 at the IFA trade show in Berlin, Amazon reportedly launching its own phone at an event this week, and Apple holding a press launch next week, things are getting very competitive in the smartphone world.