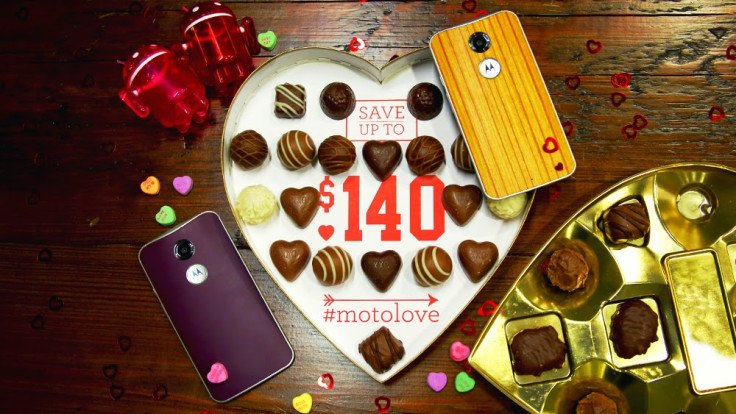 US technology giant Motorola has announced a new deal, under which customers residing in the United States of America can buy popular gadgets such as the Moto X(2014) smartphone, Moto 360 smartwatch and other devices, at significantly discounted prices.
As part of its Valentine's Day offer, Motorola on 2 February will offer customers an exclusive promo code which can be used to get savings of $140 on purchase of Motorola devices worth $499.99 or more, via Motorola's official web portal.
As part of the deal, buyers can also choose to obtain another promo code that takes $50 off on purchase of Motorola gadgets worth at least $249.99.
To make use of this offer, potential buyers of Motorola's smartphones and accessories, must complete an online registration process that begins on 2 February and ends at midnight, post which the promo codes will be sent via email.
Customers can add the desired gadgets to their shopping cart, and then complete the purchase latest by 10.59 pm CST, 14 February.
If customers miss out on the offer, then Motorola will offer yet another promo code on 3 February that promises to take $100 off on purchases worth $499.99, and $35 on payments of $249.99.
Like the 2 February deal, this offer will be valid only for online purchases made till 14 February.
According to Motorola, customers can purchase the combination of a smartphone and an accessory, under its Valentine's Day deal.
Motorola smartphones covered under the ambit of the above deals
A majority of Motorola smartphones are included as part of the Valentine's Day deal, except for the following devices:
Nexus 6, Republic Wireless-driven Moto X(2014) and Moto Care Accident Protection. Also, customers are advised (by Motorola) to limit to two devices from among Moto X(2014), Moto G(2014), Moto G 4G LTE (1st gen), Moto E and Moto 360.
Multiple promotions and offers also cannot be combined under the offer.