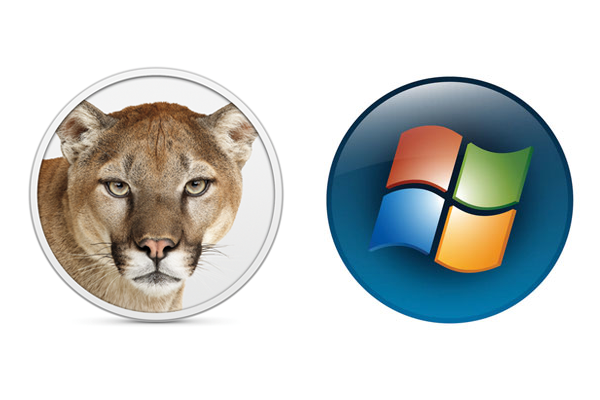 There have been innumerable debates surrounding Microsoft Windows' infamous imitation of the Mac OS X interface and looks. The design imitations have hogged the limelight for quite some time now, leaving restless fans contemplating what to expect next from the two corporate bigwigs.
Quite strangely, the two mega-software giants share a common motto - to bridge the gap between portable and desktop platform with a unified experience. It is then apt to compare the diverse paths treaded by the two companies in their bid to capitalize on their distinct market assets.
In particular, we are concerned with how both operating systems (Macintosh and Windows) draw inspiration from each other and aim to integrate technology across cross-platforms (mobile and desktop). Each OS faces the same hassle of hardware design constraints but approaches the problem with different formulations.
Riding on the success waves of the iPhone, the iPad and the iPod Touch, Apple aims at consolidating its desktop market with concepts borrowed from the mobile platform. On the contrary, Microsoft envisions a bright future in trying to replicate the desktop success on the mobile platform with Windows 8.
Apple's biggest strength lies in its most-sought after product - the iPad - whereas Microsoft relies on its autonomous rule over the desktop operating system - Windows - besides its mainstay revenue churner - the gaming platform Xbox. It is no wonder that Apple sells its Macs borrowing the concepts of the iPhones and the iPads, while Microsoft just does the opposite - sells mobile phones and tablets riding on the strength of desktop Windows.
As a result, users begin to expect the same kinds of interfaces and software services on the desktop that they enjoy on their phones and tablets: Multitouch, App Stores, instant storage and syncing in the cloud. Apple is borrowing these iOS mainstays, and delivering them to Mac computers.
Meanwhile, for years, Microsoft has been trying to recreate the magic of mighty Windows... porting the look and feel of desktop Windows and popular software programs like Office to Windows Mobile. Somehow it hasn't clicked yet.
Finally, the advent of the Xbox 360, Zune and Windows 7 brought some hope and respite for Microsoft for formulating new ideas with which to import appealing features of PC platforms to mobile devices with unified code base and development architecture.
However, replicating the same kind of success that Microsoft had with the desktop environment will be no cakewalk, especially considering the company does not own any autonomous hardware production units in the smartphone or tablet segment.
Apple might be a little more cautious with the new idea of platform convergence, as its market size is way too small compared to Microsoft's global dominance with Windows. Microsoft's recent tie-ups with Nokia to unleash the newer Windows phone smartphones with Mango onboard is just for starters and a lot has already been said and is expected with Nokia's Lumia series' grand launch.
Apple has its task cut out to keep desktop, mobile and tablet computing distinctly defined, while connecting all three platforms through its unified software services.
Microsoft is poised to offer Windows 8 for both Intel and ARM, while manufacturers are keen to produce tablets and netbooks for both platforms. Apple, meanwhile, has no takers or hardware partners for its Macintosh software. However, they do have the advantage of owning both software and hardware production units across all three platforms - mobile phones, tablets and desktops.
The bottom-line is two diverse solutions for the same strategy quagmire, which demands huge investments with leveraging of assets. The danger lurks with treading unknown territory, as the two formidable giants stack up against each other to renew battle lines for a grand new cause.
Must Read: Apple Mac OS X Mountain Lion: Top 10 Key Features