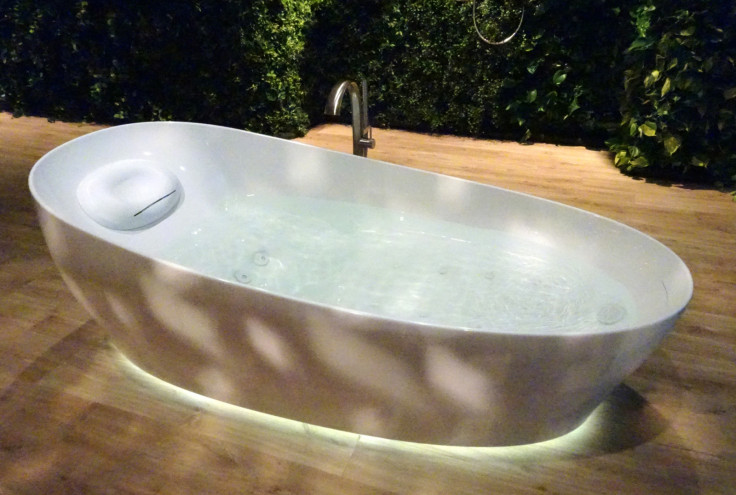 One of the more unusual quirks Japan is known for is its fondness for elaborate toilets. Toto Ltd, the company credited for immortalising Japanese bathroom culture with its brand of water-shooting, seat-warming super lavatories, is turning its attention to bathing with a new bath tub that will turn your daily dip into a near spiritual experience.
The company's Flotation Tub boasts a unique set of features and special design intended to put bathers into a "trace-like state", Bloomberg reports. The tub, unveiled by Toto on 14 March, is inspired by flotation therapy, whereby participants are placed into a soundproof tank filled with salt water and cut off from outside distractions.
Unlike conventional bathtubs, the Flotation Tub features a cradle-like design that positions bathers halfway between between floating and lying down. The bathtub measures over two meters long so bathers can stretch out, and features an adjustable pillow and water jets offering massage functions.
The tub is intended to encourage low-frequency brain waves, which are associated with deep relaxation and sleep. Toto's researchers said they came up with the idea when they noted that most of their ideas came to them while they were taking baths.
Toto is famed for its brand of high-tech bidets called Washlets, which are embellished with sophisticated features including auto-flush, deodorising and self-cleaning functions, amongst others.
The Flotation Tub is mainly aimed at high-income customers in Europe, the US the Middle East and China, Toto president Madoka Kitamura told Bloomberg, who added that the company aims to increase the volume of sales it makes overseas from 22% currently to 50%.
The Flotation Tub is expected to go on sale later this year, although an exact price is yet to be given. Better stock up on those lavender candles in the meantime.