UPDATE AT 8.00pm: The lock down of Westminster is over. MPs, staff and visitors who were being held in Westminster Abbey and the parliamentary estate have been allowed to leave.
UPDATE AT 5.42PM: Hundreds of people, some of them believed to be MPs, have been seen leaving the Palace of Westminster and being escorted across the road to Westminster Abbey, where the BBC say they are being briefed by police. It is unclear if any MPs or staff remain in Parliament.
ORIGINAL STORY: Proceedings in the House of Commons were suspended just before 2.45pm today after a policeman was stabbed in the grounds of Parliament.
MPs have been told to stay inside their offices after the assailant was shot by police – who are now treating the episode as a "terrorist incident".
Theresa May was reportedly seen being rushed into her official car and the BBC are reporting that she is now in nearby Downing Street. A source told the BBC that she was "OK".
MPs reported witnessing the incident and dropping to the floor as they heard gunshots. They are now reportedly being held together in a safe space. Other MPs are being kept safe in the main chamber.
Many members were in transit as they made their way to vote on a pensions scheme bill. Some had made it back into the chamber when Deputy Speaker Lindsay Hoyle called them to order. He suspended the sitting of the house but asked those present to remain where they were.
Shortly after, Leader of the House of Commons David Lidington addressed MPs. He said: "It seems that a police officer has been stabbed, that the alleged assailant was shot by armed police. An air ambulance is currently attending the scene to remove the casualties.
He added: "At the moment the advice from the police and the director of security of the house is that we should remain under suspension and that the chamber should remain in lock down."
One MP who was not in the chamber was Monmouth's MP David Davies. He told the BBC that he had been close to the incident when it happened, adding: "We heard gunshots very nearby and dropped to the floor and then people ran for safety.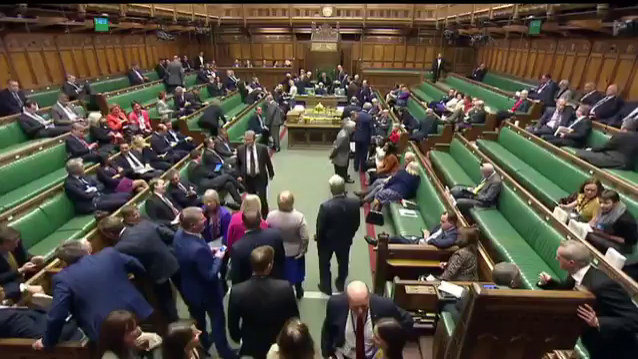 "We were then told to wait in our offices behind locked doors and await instructions which is that we are now all gathered in one particular area. I would suspect we're going to be here for quite a while now while the area gets secured."
Davies had earlier tweeted that was "shot at" but he did not repeat this claim when interviewed by the BBC.
MP Tobias Ellwood offered CPR to the injured police officer. Witnesses reported that the former Army Officer was seen with a bloody mouth and clothes as he tried to reduce the officer's bleeding.
A picture of armed police inside a building believed to be the Palace of Westminster was tweeted by MP Barry Gardiner who offered his thanks to police and security forces for a "prompt response".
Huddersfield MP Barry Sheerman tweeted a selfie picture of a half-full main chamber at just after 4.00pm.
However, Davies told the BBC that he and other MPs were in an unidentified safe room. He said: "We've moved to a different area I'm not going to say exactly where it is but there's a good security operation that's been put in place. There's no panic, people know exactly what they're doing. They're doing an absolutely brilliant job."
MPs have been tweeting from inside Westminster. Conservative David Warburton said: "We're in lock down inside the Chamber of the House of Commons. Just adjourned the House."
Democratic Unionist Jeffrey Donaldson tweeted: "Walking into Parliament when attack occurred. Police excellent. Got us onto ground then led to safety. Terrorism will never defeat democracy."
Labour leader Jeremy Corbyn said: "Reports suggest the ongoing incident in Westminster this afternoon is extremely serious. Our thoughts are with the victims of this horrific attack, their families and friends.
"The police and security staff have taken swift action to ensure the safety of the public, MPs and staff, and we are grateful to them."
Proceedings in the House of Lords, Scottish Parliament and the Welsh Assembly have also been suspended.