The UK can and should be playing a greater role in the fight against the Islamic State (Isis) in Iraq and Syria, according to a group of MPs.
But the Defence Committee stressed that they are not calling for combat troops to be deployed, rather the group emphasised that the UK has the expertise and resources to "play a much larger role" in analysing the Isis threat.
Rory Stewart MP, chairman of the committee, warned that the "nightmare "of a jihadist state establishing across Syria and Iraq has finally been realised.
"Isis controls territory equivalent to the size of the UK, has contributed to the displacement of millions, destabilising and threatening neighbouring states, and providing safe-haven to an estimated 20,000 foreign fighters, many dedicated to an international terrorist campaign. Yet, the role that the UK is playing in combating it, is strikingly modest," he said.
The group of MPs said they were shocked by the "inability or unwillingness" of any of the service chiefs to provide a clear, and articulate statement of the UK's objectives or strategic plan in Iraq.
"There was a lack of clarity over who owns a policy—and indeed whether such a policy exists," the report said.
The committee also found that the UK has so far conducted only 6% of the air-strikes against Isis and the group discovered on its December visit to Iraq that there were only three British military personnel outside the Kurdish regions of Iraq (compared to 400 Australians, 280 Italians and 300 Spanish).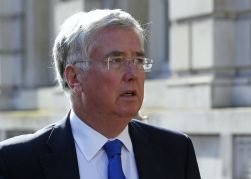 In addition, despite the UK's long involvement in Iraq, there were no UK personnel on the ground with deep expertise in the tribes, or politics of Iraq, or a deep understanding of the Shia militia, who are doing much of the fighting.
The report recommended that the UK invests "heavily" in staff to develop a better understanding of the situation on the ground, and to help shape a realistic coalition plan for dealing with Isis.
It argued that once the Iraqi Security Forces and the Peshmerga show increased capability and are ready for major offensives against Isis, the UK should be prepared to provide an increased level of support to those operations from the air.
But a government spokesman defended the UK's role in fighting Isis in Iraq.
"We have carried out the second highest number of air strikes among coalition partners, gifted weapons and trained Iraqi security forces, including the Peshmerga forces, in how to use them, are gifting a further 1,000 counter-IED detectors and are delivering various strategic and skills training programme," the spokesperson said.