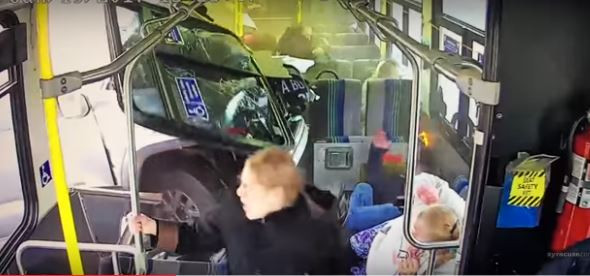 A collision between a pickup truck and a bus in Syracuse, New York, caused multiple injuries last week. CCTV footage of the incident emerged on Friday, showing the extent of the crash after local news outlets filed a freedom of information request to the bus operator, Centro.
Footage captured by cameras on the bus show a passenger being thrown forward after the pickup truck crashed through the side of the bus on January 19. The incident took place at around 2pm, according to police.
The incident occurred as the driver of the passenger bus exited interstate 81, which runs between New York and Tennessee.
The bus, run by operator Centro which operates in a number of cities in the state of New York, was then struck by the pickup truck as it swerved to avoid traffic and spun off the road.
The truck was described as being lodged in the bus "several feet off the ground" by local news reports.
The incident is believed to have happened after the pickup truck driver accidentally accelerated instead of breaking.
Police later confirmed that several passengers had been treated for injuries, though amazingly, given the force of the crash, none were in a serious condition.
The bus's driver, Daphne Ross-Powell, suffered chest pain. The driver of the pickup truck, Neil Brownell, 82, was not injured, though his wife – a passenger in the truck – was also treated for chest pain. According to reports, police were investigating the crash, though no arrests were made.
Figures released by the United States' National Center for Health Statistics, a total of 35,398 people died as a result of motor vehicle traffic accidents in 2014, – which accounts for 11.1 deaths per 100,000 people.
In the same year, 1,775 people were killed in road traffic accidents in England and Wales, which accounts for around three deaths per 100,000 people.