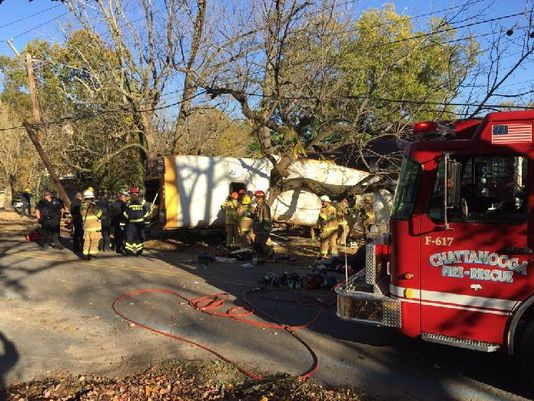 At least five children have died and scores more taken to hospital with serious injuries after a school bus was found overturned and wrapped around a tree, following a crash in Chattanooga, Tennessee on Monday (21 November). The driver of the bus has been charged.
It is believed that 35 students were on the vehicle at the time of the incident, which occurred at around 4pm ET (7pm GMT) near the intersection of Howard Avenue and Talley Road, according to The New York Times.
Chattanooga Police Chief Fred Fletcher confirmed that 23 passengers were hurt and admitted to hospital, where one died and two or three more remain in a critical condition.
Chattanooga Police Officer Rob Simmons said that following the accident, the position of the bus made it very difficult for emergency crews to remove the dead and injured children, reported WTVC NewsChannel 9.
He described the incident as "every public safety professional's worst nightmare," according to a report by the Times Free Press.
He added: "Our hearts go out, as well as the heart's of all the people around me, to the family, the neighbourhood, the school and all the people involved in this," he said at a press conference.
"We assure you we're doing everything we can to help everybody be as safe as they can, get the care they need and get the support they need."
All those on the bus have been now been freed, stated the fire department, who described the accident as "very serious" in a tweet.
The cause of the crash is still unclear, but police say that the driver of the bus is cooperating with them. However, a local resident said that the bus hit a power line and some homes in the area still remain without electricity or power.
Local media reported that two injured students lay on stretchers for nearly an hour after the crash, receiving medical help from emergency teams.
Children's Hospital at Erlanger said it is looking after patients and assisting with the families. "We will provide more information as soon as it is available," according to a news release from the hospital.
It was reported that the waiting room was completely full at the Blood Assurance donation centre in Hixson, after they sent out an alert that blood and platelets were needed.