A Missouri mother has donated over 1,000 ounces of spare breast milk to victims of hurricane Harvey in Texas.
Danielle Palmer has sent a whole cooler of her milk to mothers and babies in Houston who have been forced out of their homes due to severe flooding brought and lost access to their back-up supplies.
Palmer was able to help in such a big way because her son Truett has a congenital heart condition, which means he receives most of his food through tubes.
Speaking at her home in Owensville, she told WSMV: "I can't imagine being in a situation where you're losing everything and just the fear of all of that. All I could do was sit and pray for the moms and dads and kids."
Then she learned about a drive for breast milk, organised by local charity Guiding Star Missouri, from Truett's speech therapist.
"We [Palmer and Truett] gave 1,040 ounces and we figured that up, if a normal baby gets three ounces, that's 346 feedings," she said.
Palmer says her milk is en route to Dallas in a deep freezer with milk donated by other Missouri mums. It will then be distributed as needed.
According to the Centers for Disease Control (CDC), human breast milk is not listed as a body fluid that requires for special handling precaution. The CDC website states: "HIV and other serious infectious diseases can be transmitted through breast milk.
"However, the risk of infection from a single bottle of breast milk, even if the mother is HIV positive, is extremely small. For women who do not have HIV or other serious infectious diseases, there is little risk to the child who receives her breast milk."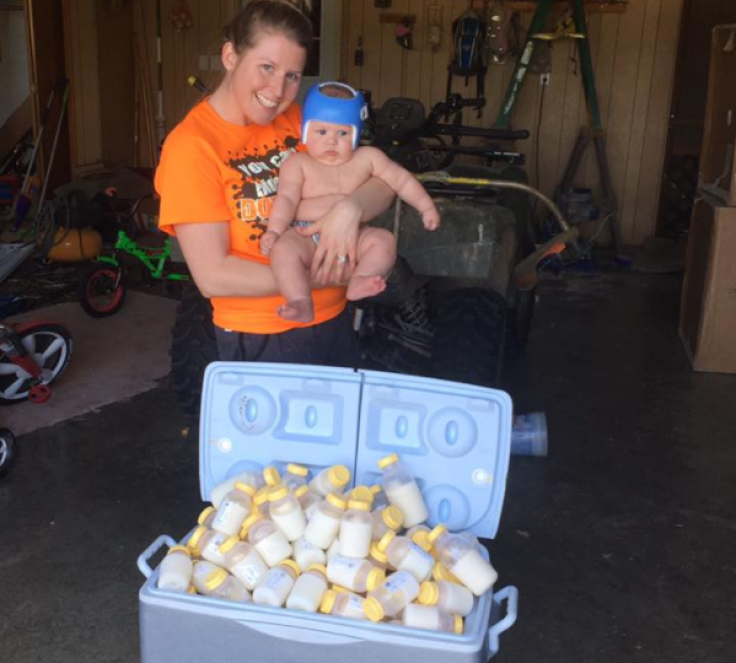 Palmer is just happy that she and Truett can be of help and it has confirmed her conviction that Truett's difficulties are a blessing from God.
"With Truett's heart defect, I don't take that lightly but I also know I'm grateful for the situation God placed us in. It's given us the opportunity to do other things, I mean had we not been in this situation, we wouldn't be able to share some of our love with the babies in Houston," she said.
She says it was the least she could do to help other mum's in need: "We have each other's backs. We take care of each other. Breastfeeding is hard. Whether you're pumping or feeding or however it may be, it's hard. And we are like momma bears. We protect one another."