Pope Francis' top aide says an Isis propaganda video that targets the pope is worrying but notes Vatican security is already at a high level.
A recent film shows Isis fighters in the Philippines destroying images of Pope Francis while desecrating a Catholic church they captured in Marawi in the country's south.
"Remember this, you kuffar [non-Muslims] – we will be in Rome, we will be in Rome, inshallah [god willing]," one of the jihadis says to the camera two minutes into the slickly produced package.
Secretary of State Cardinal Pietro Parolin, the Holy See's No. 2 official, told reporters on 26 August he had seen the video.
He said: "Obviously, one cannot help but worry, above all for the senseless hatred that it is. But he said the Vatican hasn't added more measures to its already high security."
The Vatican, headquarters of the Catholic church, and Italy have been indicated previously as possible targets of Islamist extremism. Recently, another video, transmitted on the pro-IS Telegram channel, suggested that Italy is the next target of an extremist attack.
The video which included the threat appeared to have been filmed recently in the Philippines, a Catholic nation, where Abu Sayyaf and Maute rebels are battling government forces for control of the coastal town Marawi.
Both groups have sworn allegiance to Isis, which has seen its territories in Iraq and Syria greatly reduced in 2017 as US-backed forces recaptured the towns and cities that formed the the core of the so-called caliphate.
The propaganda piece showed rebels running amok in a Catholic church, smashing crucifixes, icons and destroying an image of Pope Francis.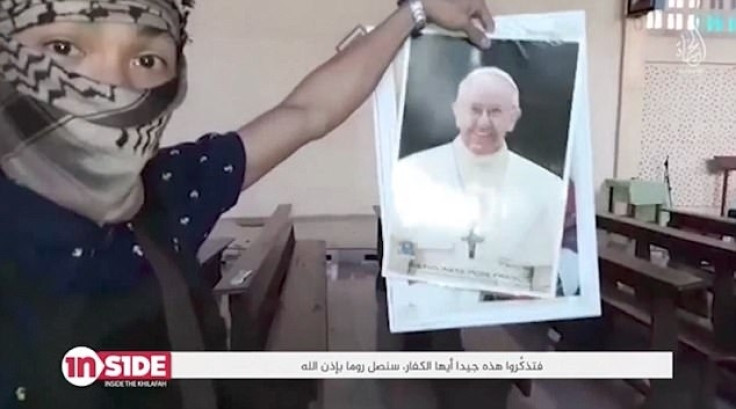 Marawi is home to one of the biggest Muslim communities in the Phillippines and is an autonomous region that has been the subject of several independence rebellions since the 1970s.
Europe is on high alert as increasing numbers of domestic terrorists return from waging jihad in the Middle East and elsewhere.
Italy has so far been spared the bloodshed that has plagued cities in Britain, France, Germany and elsewhere. However, the government and the Vatican will be taking no chances, especially in light of the latest threat.
In 2014 an Isis spokesman told the terror group's English language magazine Dabiq that Isis will one day preside over Rome.
He said: "We will conquer your Rome, break your crosses, and enslave your women, by the permission of Allah, the Exalted. "If we do not reach that time, then our children and grandchildren will reach it, and they will sell your sons as slaves at the slave market."