A group of drunk British holiday makers came to blows with French police on the runway at Bordeaux Airport after an Ibiza-bound flight was forced to land because of their troublesome behaviour.
The group had been flying from Stansted to the party island on Friday 25 August when they became disruptive and forced the pilot to land in the south of France.
The group were escorted off the plane by French police while fellow passengers gleefully chanted "off, off, off" .
But that wasn't the end of the episode. As they were guided towards the terminal, the three men became agitated and started pushing back at their captors.
A punch was thrown and in an instant a full blown scrap kicked-off.
Eventually the officers gained control of the men, handcuffing one of them, and leading them away.
A witness told MailOnline: "One of the guys wanted to buy something extra and was a but rude – the flight attendant was ignoring him. He went on demanding and grabbed her by the arm asking to serve him.
"The cabin crew stopped the service and called the pilot. Police came into the plane to take the guys off. One bald guy [an associate of the first man] was very unhappy about this as he was not involved in the argument. He was very drunk and very big."
Bordeaux Airport security sources said the matter was still being investigated and may lead to arrests.
A spokesman for Ryanair said: "This flight from London Stansted to Ibiza (25 Aug) diverted to Bordeaux after a number of passengers became disruptive inflight.
"The aircraft landed normally and the passengers were removed and detained by police upon arrival, before the aircraft continued to Ibiza.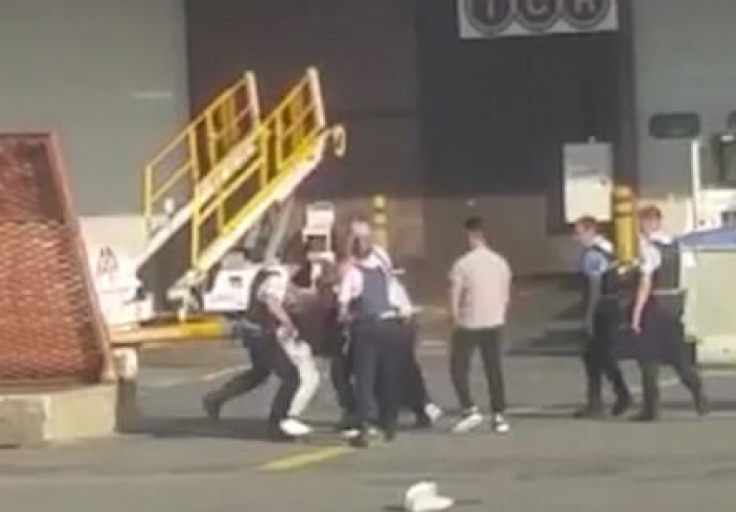 "We will not tolerate unruly or disruptive behaviour at any time and the safety and comfort of our customers, crew and aircraft is our number one priority. This is now a matter for local police.
"This is exactly why we are calling for significant changes to prohibit the sale of alcohol at airports, such as a two-drink limit per passenger and no alcohol sales before 10am.
"It's incumbent on the airports to introduce these preventative measures to curb excessive drinking and the problems it creates, rather than allowing passengers to drink to excess before their flights."