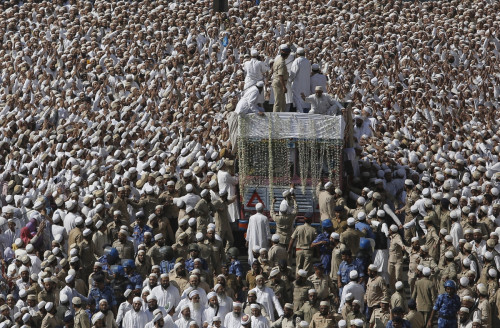 Eighteen people have been killed and dozens of others have been injured in a stampede in the Indian city of Mumbai ahead of the funeral of an Islamic leader.
The stampede occurred outside the Malabar Hill residence of the spiritual leader, Mohammed Burhanuddin, after scores of people wanted to pay their final tributes.
"Neither the police nor the organisers thought of the huge turnout of devotees. Eighteen people have died and most deaths due to suffocation. When the gate was closed, there was suffocation," said Mumbai police chief Satyapal Singh.
Nearly 60 people were reported injured in the incident but most of them have been released from hospital subsequent to medical treatment. Children are also among the victims.
Police are probing the cause of the stampede. The death toll is expected to increase slightly as some of the victims are severely wounded.
Extra forces have been deployed following the incident to prevent further chaos.
"Everyone wanted to take Darshan [take a look] as soon as they could. The crowd was so emotional that it could not be contained. Amid all this, the unfortunate incident took place," Shehr Hakim, who flew in from Dubai to take a glimpse at the body of the leader, told the Hindu.
Burhanuddin, 102, died on Friday (17 January) following a cardiac arrest. He was the 52nd Dai al-Mutlaq (chief) of Dawoodi Bohras, an offshoot of Shiite Islam.
The funeral is expected to take place shortly, as scheduled, despite the stampede.