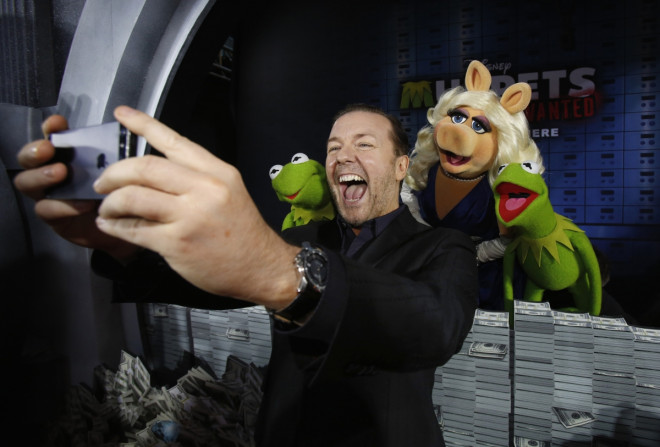 Muppets Most Wanted Star Ricky Gervais and director James Bobin were joined at a press conference by the real stars – Kermit the Frog, Miss Piggy and the film's villain Constantine.
They were doing so to promote their latest big screen caper, which takes the rag-tag group of felt wonders on a world tour (of Europe) and which sees their green leader thrown in a hellish (but still musical friendly) Russian Gulag.
Taking questions from a packed audience at London's Soho Hotel, first up was a young fan called Conner, who was clad head-to-toe in green. His question was for Constantine – the world's number one criminal who frames Kermit and assumes his identity to undergo a series of heists – and it was a simple one.
"What's it like to be hated?"
Taken aback, Constantine eventually answered: "There is part of me that kind of enjoyed being the bad guy, and enjoyed being hated. I was written that way, so what can I say?" Kermit soon leapt to his co-stars aid, defending him as really not being a bad guy at all.
"We don't hate him," said the Muppet leader. "It's just a story in a movie. He's actually an old pal from the swamp and he's a good guy."
Gervais then leapt in. "Doing this movie and meeting me has thawed his little heart of stone. He was born in a pond in Russia, one of 800 brothers and sister tadpoles – many of them are dead, eaten by fish. But showing him love has made him quite a cuddly little thing." Gervais then tickled Constantine, prompting a violent jerk reaction from the frog.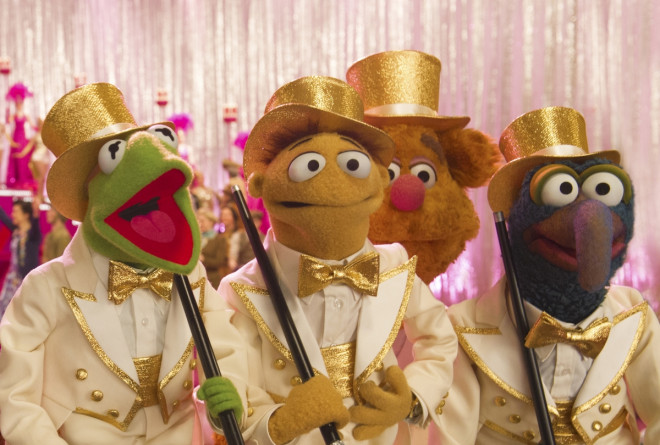 The comic certainly has his detractors, but he was clearly having an absolute ball making the film and is still delighted to be in the company of his colourful friends. He did however, still push the boundaries of what is appropriate.
"I ruined a lot of takes just laughing... Once I went, 'Ha! I'm in The Muppets!' and [James Bobin] goes, 'Cut! Yes you are in The Muppets. Let's do that again, but let's not say that thought'. I can't believe my luck!"
Naturally the prima-diva herself Miss Piggy was absent for the first half of the conference, but appeared halfway through after Constantine – who shares more screen time with her than most and who clearly isn't a fan - made mention of "one particular person who was really hard to work with. Super difficult to work with".
"Right on cue Pig," he added after Miss Piggy appeared.
Asked what he feels constitutes the true spirit of the Muppets, Gervais' answer was clearly from the heart. "Trying your hardest and optimism. Also acceptance. I love that acceptance of difference that isn't even commented on, other than as a good thing.
"I love that they always struggle. I do it a lot in comedy, I think it's essential and I learnt that from Laurel and Hardy. They were always precarious, they could fall at any moment."
Director Bobin, who directed the sort-of-reboot in 2011 that reintroduced The Muppets, was asked about the cameos and the process of getting so many stars to appear. "Largely we write those bits in the script and often even the name of the person involved. What we find is that because there's such a love for the Muppets that people tend to say yes. Which is really rare!
"It's amazing when we write a number for Piggy and we want someone to be like her fairy godmother, her spiritual advisor about love and relationships and we think, 'Well who would be amazing, oh maybe Celine Dion, write that in there', then we ask her and she says 'Yeah I'll definitely do that'."
Asked about a potential sequel for the film, Gervais said: "The best genre is obviously sequel, everyone knows that. As we know, films get better with every sequel."
"Grease 2," said Constantine cutting in. "Godather 3," added Gervais after his distinctive laugh. "We're just looking forward to the next sequel, whatever it is. Muppets Less Wanted maybe."
Kermit then added: "I'm hoping for Muppets Well Rested."
Muppets Most Wanted is out on 28 March.