A Russian couple are facing murder charges after the body of their disabled four-year-old son was found in their fridge - by the boy's horrified grandmother.
Karp and Uliana Ulyanov claim they can't remember what happened because they were "extremely drunk" at the time of the incident, reported in The Mirror.
Although it is still unclear how the boy got into the fridge, he was paralysed from the waist down so climbing in himself might have been difficult.
A police spokesman in the northern Russian city of Arkhangelsk said: "We are investigating the circumstances of this death."
The tragedy comes just weeks after cousins aged four and six died in the Russian town of Old Shcherbinin after hiding in a fridge to play a prank on their grandmother. Six-year-old Vika Loushkina and her cousin, four-year-old Anya Loushkina, became trapped in the fridge and suffocated before their grandmother realised they were missing.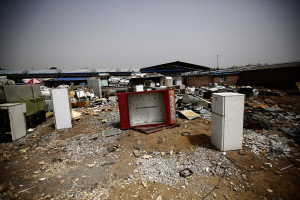 Anya's mother Katerina Loushkina, 27, was reported to have broken down on hearing her only daughter had died. 32-year-old Elena Loushkina had recently become a single mother.
Fatalities involving children trapped in fridges is not uncommon. In 2013 three children died in South Africa when they climbed in a fridge near their home.
In 2012 Omar Mousa Abu Fakhidah, 4, Mohammad Shadi Abu Fakhidah, 5 and Mohammad Mahmoud Fakhidah, 6, died in Ramallah, West Bank after climbing into a fridge.
In March 1990 three children died in Clee Hill, near Ludlow, Shropshire, after climbing into an abandoned freezer and being unable to escape. Benjamin Dovey, 6, brother Nicky, 4, and half-brother Ryan Broome, 3, found the freezer in a horsebox and climbed inside, not realising it had an external catch. When rescuers opened the fridge they found footprints and finger-marks where the boys had made a futile bid to escape.