The two Palestinians widely believed to be behind the kidnap and murder of three Israeli religious students are from a fanatical clan operating on the fringes of Hamas, it has been claimed.
Marwan Qawasmeh and Amar Abu Aisha, both members of the Qawasmeh clan based in the Abu Qatila neighbourhood of Hebron, have not been seen since 12 June, the same day Naftali Frenkel (16), Gilad Shaar (16), and Eyal Yifrach (19) were snatched as they hiked in the Etzion settlement. Their identities were released by Israel's domestic security agency Shin Bet last week, before the boys' bodies were found.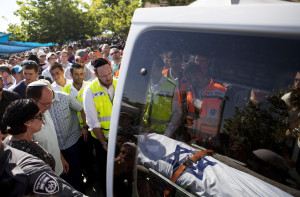 Qawasmeh, a 29-year-old barber whose wife is heavily pregnant, has been arrested at least five times and has served time in Israeli prisons. Locksmith Abu-Aisha, 33, has also been arrested and imprisoned by Israel. His brother was killed in 2005 after throwing an explosive device at forces on patrol. After the bodies of the three teenage religious students were found the homes of both men were blown up by the Israelis.
Palestinian sources claim they gave the names of the two men to Israel soon after the boys' abduction, which sparked a three-week search in which hundreds of Palestinians were arrested and six were killed. As Qawasmeh and Abu Aisha were both linked with Hamas, Israel blamed the group as a whole for their murders, which are believed to have taken place shortly after their abduction when one of the youths made a frantic phone call to a police hotline.
However, it has emerged that some elements within the 10,000-strong Qawasmeh clan are seen as trouble-makers within Hebron and disobey orders from Hamas's leadership.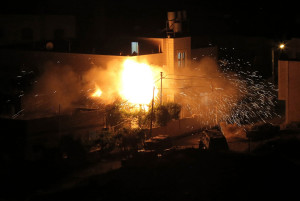 The timing of the murders could not have been worse for the Palestinian Authority (PA), coming just weeks after Fatah and Hamas formed a unity government. Israel was furious, holding Hamas responsible for countless acts of terror. Many of these have been carried out by the Qawasmeh clan, including nine members who have died in suicide attacks, usually when Israel and Hamas are attempting to negotiate a cease-fire (tahadiyeh).
The activities of the Qawasmeh clan seem likely to make a long-term peace deal between Israel and Palestine difficult. Hamas's leadership are unwilling to publicly condemn the clan's activities, which then makes it easy for Israel to say the entire Hamas organisation are responsible.
Meanwhile the funerals of Eyal, Gilad and Naftali took place in Modi'in, with tens of thousands in attendance, including Israel's prime minister Benjamin Netanyahu who read a eulogy. Netanyahu again blamed Hamas collectively for the murder of the three boys. Members of the Palestinian parliament expressed their sorrow for the deaths but also claim the Israeli army has killed 11 people, including two children, in bombing raids in recent nights.