Sony has been showing off its conceptual short-throw projector tech for some time, but now the company is finally putting its money where its mouth is. The Xperia Touch will go on sale later this spring, bringing a new way for consumers to interact with gadgets and potentially giving Sony a way to do for touch interaction what Amazon Alexa did for voice control.
IBTimes UK was treated to a brief hands-on with the Xperia Touch during a closed-door media briefing in London, prior to Mobile World Congress 2017. Even here, Sony was eager to keep a lid on the hardware specifics and the technology until after it has publicly unveiled the Touch in Barcelona.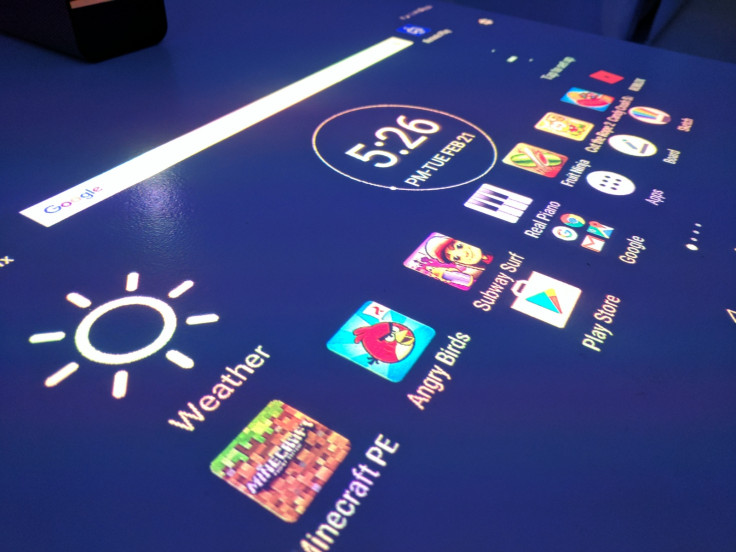 To give a very simplistic overview, the Xperia Touch is a portable projector that turns any flat surface into a 23in HD touchscreen. The device features sensors capable of tracking precise finger movements so you can interact with it much the same as you would with a smartphone.
It also contains many of the basic ingredients of a mobile device, such as built-in storage (32GB), wireless connectivity and an integrated camera.
While it's a self-contained system, the Xperia Touch features USB-C and micro HDMI ports that allows you to hook it up to a TV and route the display through the projector. It supports PS4 Remote Play too, letting you to use it as a second screen for playing PS4 games with a DualShock 4 controller.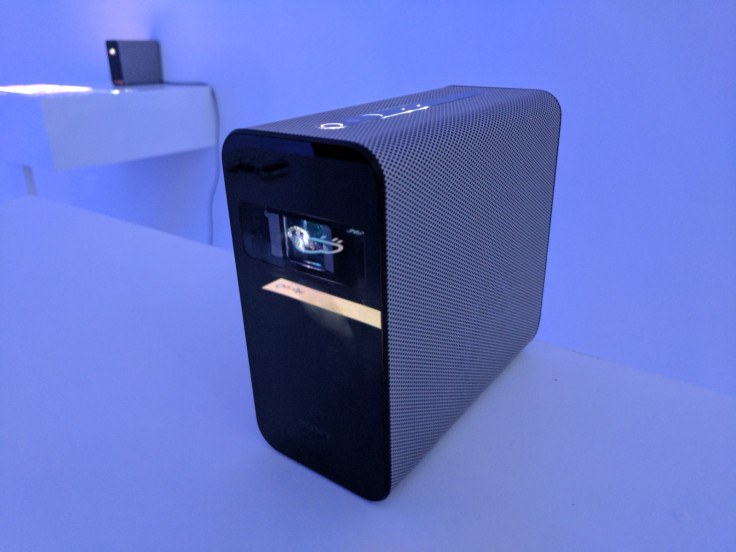 Unfortunately we weren't able to see these features in action during our hands-on time, but we did get to test out the interface. It really operates just the same as any other mobile device: indeed, the Xperia Touch is powered by Google's Android 7.0 operating system, essentially making it a glorified Sony tablet. The display is impressively clear, but you shouldn't go expecting the same level of sharpness you'd find on a smartphone screen.
This shouldn't be taken as a criticism: from what we saw, the technology has been implemented incredibly well and has enough unique appeal to tempt early adopters and hard-core Sony fans. Outside of this demographic, Sony faces a more challenging sell: priced at €1,499 (£1,270), it's unlikely that the first iteration of the Xperia Touch will fly off the shelves at a rate anywhere near to that of Sony's televisions and smartphones.
At least Sony is aware of this – Touch is, after all, a new product category for the company, and these rarely take off with instant commercial success. For those with the cash, the device makes a fantastic travel gadget owing to its small size, built-in battery and wireless connectivity, and the inclusion of stereo speakers and expandable storage gives the Touch the potential to be an indispensable all-in-one entertainment system.
IBTimes UK will be delivering its in-depth verdict on the Xperia Touch shortly, so watch this space. In the meantime, be sure to follow us on Twitter @IBTimesUKTech for all the latest news and hands-on from MWC 2017, which kicks off on 26 February.