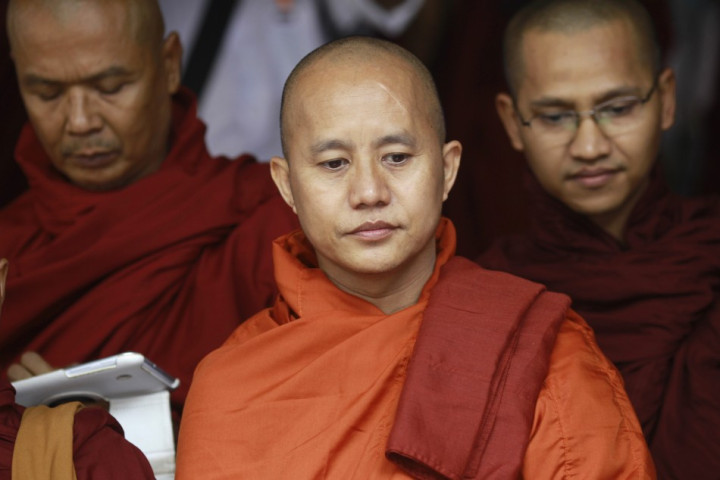 A bomb exploded metres away from Buddhist monk Wirathu, the self-styled Burmese bin Laden who has called for the boycott of Muslim businesses across the country, as he was delivering a sermon in Myanmar.
The leader of the 969 nationalist movement was unharmed by the blast, which took place inside a parked car in Myanmar's second-biggest city Mandalay.
"A small explosion went off in a car which was parked about 40 feet away from Wirathu," a Mandalay police officer told Reuters. "We can say it was a small hand-made bomb that caused the explosion. We are not in a position to reveal any more information at the moment since an investigation is ongoing."
Wirathu told Radio Free Asia's Burmese service that he had received an audio recording containing death threats, which he believed was the voice of a Muslim cleric.
He said the blast was an attempt to silence him.
"I've no idea who exactly carried out this explosion. But it must have been done by those who usually carry out terrorist acts," he told Radio Free Asia.
"The motive could be to shut my mouth."
The 969 movement has been accused of stirring anti-Muslim sentiment in Myanmar. The numerology of 969 is derived from the Buddhist tradition in which 9 stands for the special attributes of Buddha; 6 for the special attributes of his teaching or Dharma, and 9 for the special attributes of the Sangha or Buddhist order.
Wirathu, who has led numerous vocal campaigns against Muslims in Burma and was arrested in 2003 for distributing anti-Muslim literature, has called for a national boycott of Muslim businesses in Myanmar in his sermons.