Many will describe the elections in Myanmar (née Burma) as a milestone, in which Aung San Suu Kyi and her National League for Democracy (NLD) won a huge majority on 10 November and put the country on the road to democracy after decades of brutal military dictatorship.
But for Myanmar's 1.3 million oppressed Rohingya, a Muslim minority, the poll has a less positive significance. It is the first time in the country's history that not a single Muslim candidate will be elected to parliament.
Aung San Suu Kyi has been rightly lauded internally for her role in ending military rule in Burma. As a human rights activist, I campaigned for her release in both the UK and the US Congress. She has been a tireless activist for human rights in Burma and her role in our history is unparalleled.
But I am sad to say that for the Rohingya, Suu Kyi's victory is hollow. Her silence on our plight has been documented well before this weekend's elections and it has continued during the campaign. Scared of losing votes amongst Burma's significant Buddhist majority, she has failed to stand up for us.
Given less attention in coverage of the elections has been the fact that as many as 800,000 Burmese Muslims had their temporary 'white' ID cards withdrawn ahead of the poll by the current government, meaning that they could not vote. Muslim candidates were not chosen as MPs by the NLD, and the plight of the Rohingya in the western Rakhine state has been totally absent from the campaigns of all parties involved. The world has met the genocide of our people with silence.
I am a refugee in Britain but my grandfather served as a parliamentary secretary during the democratic era and even at that time there were Muslims both serving in government and in the civil service. Rohingya have been voting in Burma since 1936, yet in 2015, as the world celebrates democratisation, bear in mind that if I were to return I could not vote, let alone stand a chance of taking an active role in government.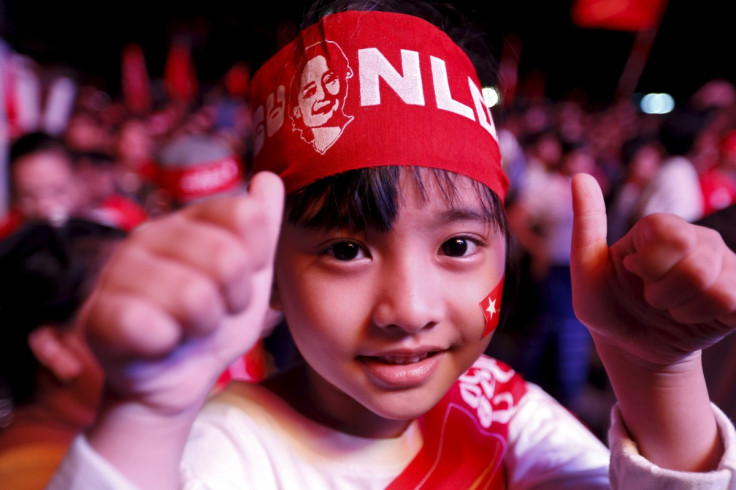 1.3 million facing genocide
There is a genocide occurring in western Burma. Since the citizenship of Rohingya was first revoked in 1982, numerous human rights groups have documented massive violations against the Muslim population, which the government considers to be Bengali migrants.
As well as clashes with the Buddhist population that has left hundreds dead, Rohingya have been the target of a virulent campaign of hate and boycotts. As the international community says that this is a milestone, 1.3 million people are facing genocide.
We call again for a UN Committee of Inquiry which would support Aung San Suu Kyi and help her stop the genocide against the Rohingya. We are facing a situation where women and children are dying everyday, yet the international community talk only of democratic reform.
As for the elections, I am not optimistic. It has been forgotten in the coverage of recent days that even if the NLD are victorious, ultimate power will still lie with the army, which will have power over the military, police, and security apparatus. Will an inexperienced NLD politician be able to rein in the actions of war criminals and a repressive military? I doubt it very much.
Perhaps the elections are a welcome change and a step on the path to democracy. Or perhaps this is all part of a plan by the Union Solidarity and Development Party to transition Burma from direct military rule and pariah status to a new hybrid authoritarian state which is accepted by the international community.
Either way, we can only hope that Aung San Suu Kyi and the NLD, when they finally attain their place at the table, do not forget us. Her new ruling party should immediately humanise the policies and practices towards the 1.3 million Rohingya people, take concrete steps to end decades of systematic persecution, and restore the full citizenship and ethnic rights of the Rohingya.
---
Tun Khin is a human rights activist and president of Burmese Rohingya Organisation UK. Follow him at @tunkhin80.
---