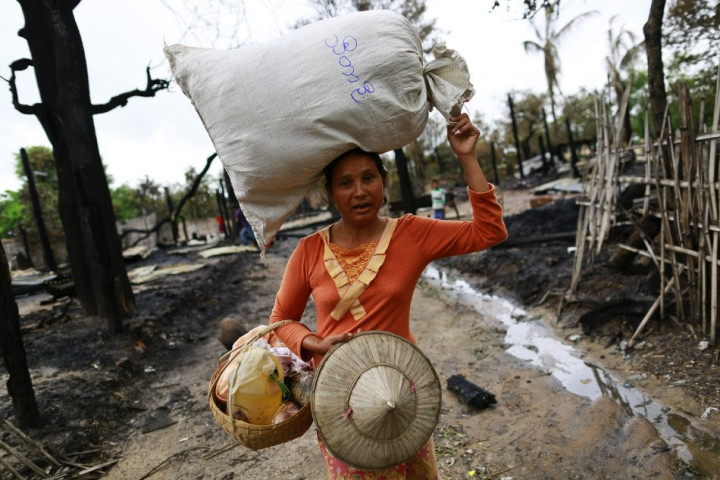 A Buddhist mob has killed a 94-year-old Muslim woman and set at least 70 homes on fire in Myanmar's western state of Rakhine.
Police officials said more than 800 rioters, some of them armed with swords, stormed the streets of Thabyuchaing, about 20km (12 miles) north of the coastal town of Thandwe.
The old woman was stabbed to death, while protesters torched Muslim houses. The victims were said to be Kamans, one of several minority Muslim groups that make up 4% of Myanmar's 60 million people.
Similar attacks were also reported in the nearby villages of Shwe Hlay and Linthi. Local reports said many people were injured, but no detailed information was available.
Sectarian violence between Buddhist and Muslims has blighted Rakhine since last year.
Buddhists have reacted to the alleged rape of a woman by a group of Muslims with an escalation of brutal attacks, which many people have described as genocide. At least 240 people have been killed and more than 140,000 left homeless, if not displaced in prison-like camps.
A state government spokesman claims the latest wave of violence was sparked by an argument in Thandwe, in which a Buddhist taxi driver accused a Muslim shop owner of verbally abusing him as he was parking in front of a shop.
Police held the shop owner for questioning but released him shortly afterwards, sparking Buddhists' anger. A mob converged on the man's house and started throwing stones before moving to torch nearby houses.
A curfew was imposed but violence swiftly spread outside Thandwe to nearby villages, such as Thabyuchaing.
The attack came during a tour of the region by President Thein Sein, who has been praised internationally for steering Myanmar on a more moderate path and out of world isolation.
Despite the praise he has received externally Sein is underfire from rights groups, which say his government has done little to tackle religious intolerance.
Kamans are a recognized Muslim minority with citizenship rights but have nevertheless been exposed to Buddhist violence in recent months. Another large Muslim group, the Rohingya, have never been granted citizenship in Myanmar.
READ:
Burma's Killing Fields: The Hidden War on Rohingya Muslims and Tribal Peoples [VIDEO SPECIAL]