The Myanmar parliament has chosen Htin Kyaw as the country's first civilian president in nearly five decades during a historic vote in parliament. The National League of Democracy's (NLD) Htin Kyaw, who has the auspices of pro-democracy icon Aung San Suu Kyi, won the vote with a comfortable majority.
Htin Kyaw, a childhood friend and close confidant of Suu Kyi, was nominated by the lower house and is likely to serve as a proxy for the Nobel peace laureate. The 70-year-old was almost certain to sweep the parliament vote as the NLD members form the majority after their landslide victory in the November 2015 polls.
The south-east Asian nation, formerly Burma, is on the verge of a historic political transition as the country is desperately attempting to crawl out of the decades-long junta rule. Suu Kyi, who is barred from taking the top post constitutionally, has made it clear she will function "above" the president, meaning anyone who is nominated as president will merely be a stand-in.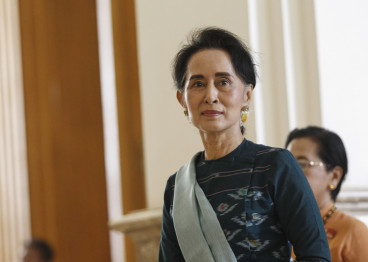 Former army General Myint Swe, a hardliner nominated by the military, is to become the vice president while Henry Van Thio, an ethnic leader representing the upper house on behalf of the NLD, may take the role of junior vice president.
"We have planned to vote for Htin Kyaw and practised not to make any mistake," an NLD told the AFP news agency anonymously, shortly ahead of the vote. The NLD has the majority in both the houses of the parliament.
"The NLD has 255 in the Pyithu Hluttaw [lower house] and 135 in the Amyotha Hluttaw [upper house], a total of 390 seats. So we can manoeuvre in parliament with our 390. We will take the presidency," NLD spokesperson Zaw Myint Maung told reporters.