Htin Kyaw, a close confidante of pro-democracy icon Aung San Suu Kyi, was among the candidates nominated for the post of Myanmar president. The 70-year-old Oxford graduate, who was once Suu Kyi's driver, is widely expected to win as he has the approval of the Nobel peace laureate.
Htin Kyaw, though not a member of the current parliament but only of Suu Kyi's National League of Democracy (NLD), will represent the lower house for the presidency. As per Myanmar's guidelines, three presidential candidates — one each from the lower house, the upper house and the military bloc — will be nominated.
Henry Ben Htee You, who hails from an ethnic minority group, was nominated by the upper house. Two of the losing candidates will become vice presidents.
"I urge all of you to give your support based on rational thoughts, to reach our goal peacefully before we fully implement your hopes," the NLD's chairwoman said in a statement after the presidential nomination. Despite being constitutionally barred from being the president, she had earlier made it clear she will function "above" the president.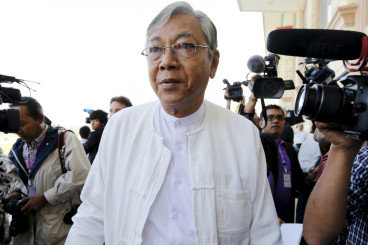 Incumbent leader Thein Sein's five-year term ends on 30 March. Following the complex voting system, the new president is likely to emerge in the middle of March. Htin Kyaw currently runs the Daw Khin Kyi Foundation — a charity named after Suu Kyi's mother. She founded the organisation to take care of people in the country's poorest areas.
"It's a historic moment for our country. I can't find words to describe how I feel now. I am excited. We can see our future very clearly now but our excitement shouldn't blind us," said Kyaw Min, an NLD lawmaker in the lower house.
Myanmar, formerly Burma, has been under military rule for six decades and the latest election in November 2015 was billed as the first free and fair democratic process in a quarter of a century.