Hundreds of rickety shelters line a track running through an industrial park in Yangon, Myanmar, after bulldozers were sent by the military to destroy a slum in Mingaladon, in the northernmost part of Yangon, which was home to approximately 2,500 people.
The land where they once lived is located on the edge of the commercial capital and is owned by Myanmar Economic Holdings Ltd (MEHL), a military-owned conglomerate which entrenches the armed forces' grip over swathes of one of south-east Asia's fastest-growing economies.
Ei Than, who has lived there for 20 years, was one of those thrown out during the mass eviction, having built her house on the vacant land, unaware that it was owned by the military. "It was just scrub and bushes when we moved here," she said, breastfeeding an infant in a flimsy shelter covered in plastic sheeting that was erected nearby after their homes were demolished.
The eviction at Mingaladon took place on 26 January – less than a week before Suu Kyi's victorious National League for Democracy (NLD) election candidates were sworn in as lawmakers.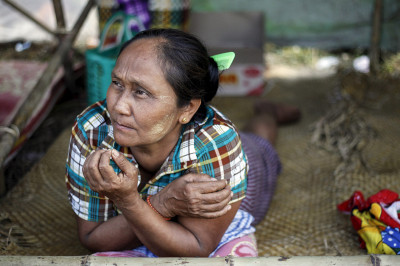 The eviction, which has now left thousands homeless, gives a glimpse into the challenges Suu Kyi faces in sharing power with the armed forces. Despite winning a resounding election victory last November, the president of the NLD must still work with the military, which retains its hold over key cogs of the state machinery.
Government officials had told the newly homeless people they would receive compensation and be re-housed; but two weeks since the eviction, they are yet to receive help. The few possessions Ei Than owns are scattered on the floor, where a dozen dusty children crowd around a DVD player, while others cook on portable stoves and eat and talk by candlelight.
"We are sad, we have nothing," she said. "We don't know if we will get any help or not."