Myanmar's Aung San Suu Kyi defends handling of Rakhine conflict
Aung San Suu Kyi says the response is based on the 'rule of law'.
Myanmar's Aung San Suu Kyi has defended her government's response to the ethnic clashes in the troubled Rakhine state claiming it to be based on the rule of law.
The Nobel Peace Prize winner and her government have come in for severe criticism from the international community over their handling of the violence in the Muslim-majority region, where officials claim militants from the Rohingya group pose a growing security threat.
But amid the increasing clashes between the army and various insurgent groups in the region, Muslim women from the persecuted minority community have accused soldiers of sexual assaults and killing civilians during a raid on their villages.
While Suu Kyi, who is on a five-day visit to Japan, has not commented directly on the calls from human rights experts to probe the allegations, she has reportedly urged the military to act with restraint.
Suu Kyi met Japanese Foreign Minister Fumio Kishida in Tokyo on Thursday (3 November), who told her that violence cannot be accepted in dealing with the crisis in Myanmar, according to a foreign ministry statement.
"The problem in Rakhine state is extremely delicate and care is needed in responding," Reuters quoted Suu Kyi as saying. "The Myanmar government is responding to the issue of Rakhine state based on the principles of the rule of law."
Meanwhile, Myanmar police are reported to be training non-Muslim residents in Rakhine state, which human rights groups fear could lead to inter-communal tensions in the region that just suffered its worst clashes since 2012.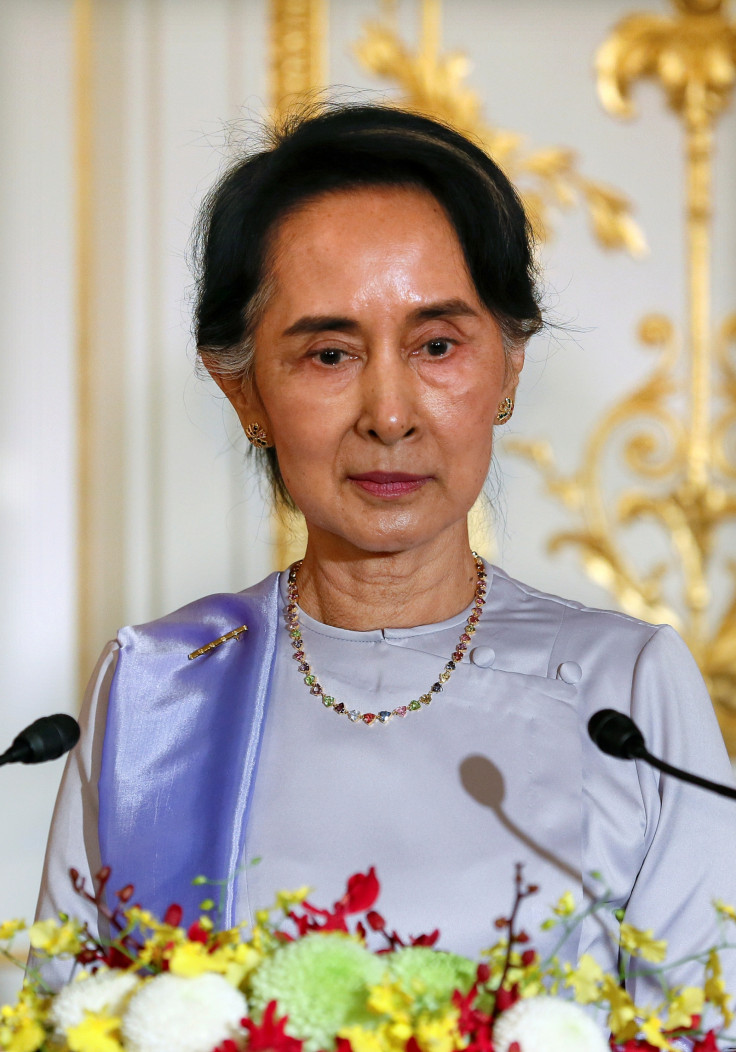 Myanmar State Counsellor Aung San Suu Kyi said the problem in Rakhine state is extremely delicate and care is needed in responding
Reuters/Kimimasa Mayama/Pool
According to Reuters, ethnic Rakhine political leaders have urged the government to provide weapons to local Buddhists. Police chief Colonel Sein Lwin said his team had already begun recruiting new "regional police" from among the ethnic Rakhine and other non-Muslim minorities living in the region.
"They will be given weapons and other equipment, like police," said Lin Lin Oo, an aide to the commander of the border police in Maungdaw.
Only citizens and residents of the region will be eligible for recruitment. Candidates who failed to meet the educational qualifications or other criteria such as minimum height required for regular police selection would be eligible, Lwin said.
Renewed clashes between the Rohingya community and the army flared up on October 9 after a series of coordinated attacks by nearly 250 armed men on posts along the north-western border Myanmar shares with Bangladesh. The army is already reported to have blocked access to the region for aid workers.
The Rohingya Muslims are widely seen by many Buddhists in the country as illegal immigrants from Bangladesh.
© Copyright IBTimes 2023. All rights reserved.