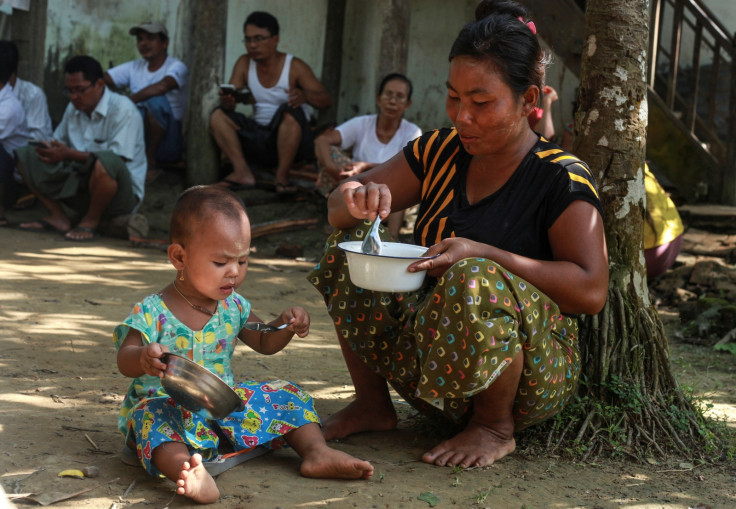 Tens of thousands of ethnic Rohingya Muslims have been left without any aid as Myanmar's military has clamped a lockdown on the violence-ravaged Rakhine state over the recent fighting. UN aid agencies have said they are unable to deliver food and medicines to the Muslim minority group in the north of the restive state.
As many as 80,000 people are estimated to be in need of immediate aid in the area, which has been witnessing increasing violence in recent days. The UN's World Food Programme (WFP) has said the Myanmar army is effectively blocking any efforts to supply aid to the Rohingyas.
The ethnic Rohingyas, who have allegedly been persecuted in a systematic manner for the past few years, are often dubbed as a stateless minority and are branded illegal immigrants in the Buddhist-majority country.
In 2012, violent sectarian clashes broke out killing more than 100 people and leaving more than 100,000 Rohingyas homeless. Authorities say the ongoing skirmishes bring back grim memories of the past bloody conflict and fear it would be repeated in Rakhine, which borders Bangladesh.
"There is military everywhere and a curfew in place. It's impossible to access any of the areas affected. The areas affected are also where we normally operate," said Arsen Sahakyan, WFP's coordinating officer in Myanmar.
The latest bout of violence erupted after three security posts were attacked by nearly 250 armed men on 9 October. Since then, the Myanmar military has launched operations targeting extremists, plunging the region into attacks and reprisals. The area has been cordoned off after the military declared it as an "operation zone" forcing severe restrictions on the movements of the inhabitants as the security agencies hunt for 400-odd extremists.
Though the casualty figures from Rakhine are not readily available, local reports indicate the death toll could be in dozens, if not more. Activists warn that Muslim civilians and their belongings are also being targeted while the military defends the security operations.