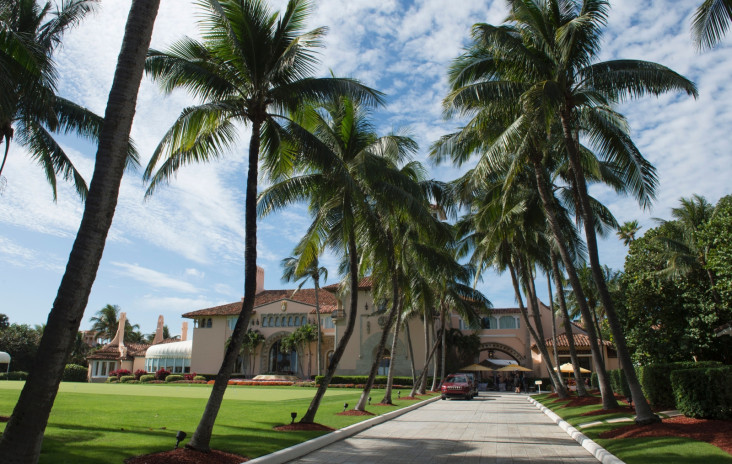 A sizable sinkhole has mysteriously formed in front of US President Donald Trump's Mar-a-Lago in Palm Beach, Florida.
The internet saw this as the perfect opportunity for a cacophony of "hellish" jokes, theories and memes.
On Monday (22 May), town officials posted an advisory about the 4ft-wide sinkhole that appeared on Southern Boulevard, close to the southern entrance of the "winter White House."
"A 4' x 4' sinkhole has formed on Southern Boulevard directly in front of Mar-a-Lago," the alert read. "It appears to be in the vicinity of the newly installed water main. West Palm Beach Utilities distribution crews have secured the area and will most likely need to do some exploratory excavation today."
As repair crews conduct an exploratory dig and work to repair the hole, Twitter erupted with a slew of jokes about the hole, theories about its cause and sarcastic comments about what it represents.
While many pointed to the amount of money and time Trump has spent on his trips to the lavish resort, others saw it as a "really obvious sign" of an "increasingly irritated God".
Other social media users sarcastically said the hole opened up after Trump, King Salman of Saudi Arabia and President Abdel Fattah el-Sisi of Egypt touched a glowing orb during his recent visit to Riyadh - another incident that lit up the Internet.
"The gates of hell are opening..." a Twitter user wrote.
"But it is a beautiful sinkhole. The best sink hole in history. A model sinkhole for all future sinkholes", one user tweeted.
"The swamp is draining?" one user tweeted.